If you store a lot of photographs on your iPhone, you can run slideshows of those images. Not only does iPhone let you run slideshows, it gives you a variety of controls to run a slideshow just the way you want.
Launching a slideshow
You can launch a slideshow from either an album stored on your iPhone or from your iPhone's camera roll (the name for the album of pictures you've actually taken with your iPhone):
Tap the Photos icon on the Home screen and select an album from the list that appears.

Alternatively, you can tap the Camera Roll button in the Camera app to select your camera roll.

Select a picture, and then tap the photo's Play button.

If you're in the Camera app and summon the Camera Roll, you can also start a slideshow by tapping play at the bottom of the thumbnails screen.

Tap the Play button again to stop the slideshow.

Unless you've set the slideshow to repeat, the slideshow ends automatically.
Special slideshow effects
You can alter the length of time each slide is shown, change the transition effects between pictures, and display images in random order.
From the Home screen, tap Settings, then scroll down the Settings screen that appears and tap Photos. You can tap any of the following to make changes: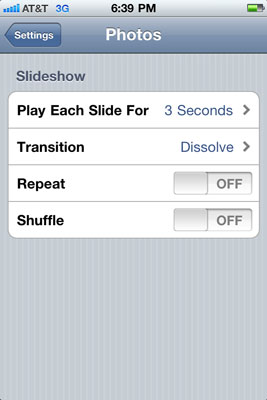 Play Each Slide For: You have five choices: 2 seconds, 3 seconds, 5 seconds, 10 seconds, and 20 seconds. When you're finished, tap the Photos button to return to the main Settings screen for Photos.

Transition: This effect is the one you see when you move from one slide to the next. Again, you have five choices: cube, dissolve, ripple, wipe across, and wipe down. Try them all to see what you like. Tap the Photos button when you're finished.

Repeat: If this option is turned on, the slideshow continues to loop until you stop it. If it's turned off, the slideshow for your camera roll or album plays just once.

Shuffle: Turning on this feature plays slides in random order.
Press the Home button to leave the settings and return to the Home screen.
Adding music to your slideshow
Adding music to a slideshow couldn't be easier. Just tap iPod and begin playing a song. Then return to the Photo app to start a slideshow, as described in the section "Launching a slideshow."
About This Article
This article can be found in the category: