You can access your desktop PC from your laptop with Remote Desktop. Remote Desktop allows you to work on your laptop as if it were your desktop computer. To access a remote computer from your laptop, follow these steps:
From the Start menu, choose All Programs→Accessories→Remote Desktop Connection.
The Remote Desktop Connection dialog box appears.
If the computer you want to connect to is available from the drop-down list, choose it. Otherwise, type the computer's name.
The computer must already have been configured to accept a remote desktop connection.
Click the Connect button.
You must log in to the remote computer by using an account on that computer.
In the security window, type your User Name and Password.
Follow the same process as you would for logging in to the other computer.
Click OK.
Wait a few seconds. Eventually, the laptop's screen changes. What you see displayed is the other computer's desktop.
Use the remote computer
When the remote desktop is set up and connected, what you see on your computer's screen is the display of another computer on the network. Moving the mouse on your computer moves the mouse on the other computer, and ditto for the keyboard. It's just as though you're sitting at that computer, when you're actually working things from a remote location.
To break the connection, click the X button in the strip at the top of the screen.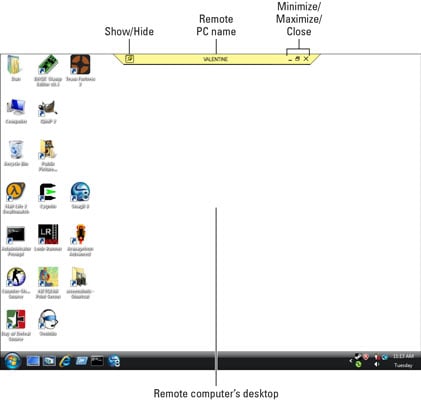 Click OK to confirm the disconnection.
The connection is broken, and you're using only your own PC again.
About This Article
This article can be found in the category: