Microsoft views Windows 10 as a one-size-fits-all computing solution that runs on laptops and desktop PCs as well as tablets. Windows 10 can even run on your TV through Microsoft's Xbox One game console. Windows 10 behaves almost identically on each device, and it brings a bonus: Apps known as universal apps will run on a Windows 10 tablet, PC, laptop, and Xbox One.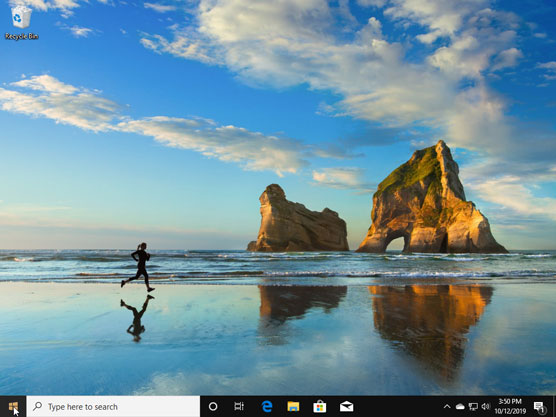 A.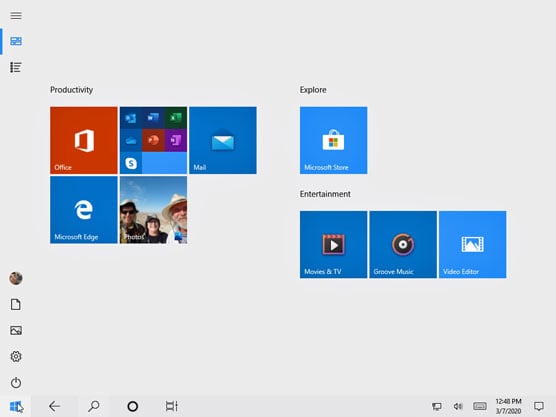 B.
Windows 10 behaves almost identically on laptops and desktop PCs (A) and tablets (B).
Besides aiming to run on everything but clock radios, Windows 10 brings these changes to your computer:
Start button and menu: Removed from Windows 8 and half-heartedly tacked back onto Windows 8.1, the Start button and Start menu triumphantly return to the desktop in Windows 10. The revamped Start menu sports a column of icons, as well as fingertip-sized tiles for launching apps.
Apps on the desktop: Apps, which are small programs from the world of phones and tablets, consumed the full screen in Windows 8 and 8.1. Windows 10 lets you choose whether to run apps full screen or within desktop windows.
Cortana: The digital assistant in Windows 10, Cortana, helps you manage your computing by fetching lost files, stocking your calendar with appointments, grabbing up-to-date traffic information about your commute, and extracting informational tidbits from the Internet. Microsoft recently removed Cortana from the taskbar's Search box; and it may eventually disappear from Windows 10.
OneDrive: Microsoft's online file storage service comes built into Windows 10. OneDrive lets you choose which files and folders should live only on the cloud (Microsoft's Internet-connected computers) and which should live on both the cloud and your computer. That lets you adjust the settings depending on your computer's amount of available storage space.
More apps: The Microsoft Store offers more than 700,000 apps. That's nowhere near the number of apps found for the iPhone, iPad, or Android phones and tablets, but you can find plenty of big names like Facebook and Netflix, with more on the way.
Multiple desktops: Windows 10 lets you create extra desktops, and you can switch between them with a click or tap. You can set up one desktop for work and another for gaming, for example. (Or you can completely ignore the feature.)
Windows Hello: This welcome security update allows you to sign into your computer without typing in a password. With the right fingerprint reader or camera, your computer can recognize your face, fingerprint, or iris and automatically let you in. You can even access supported websites without having to type your username and password.
Windows Ink: This update lets you write on your tablet's screen with a special pen, letting you add handwritten notes and drawings to apps like Maps, the Microsoft Edge browser, and Office.
Windows Timeline: This new feature lets you see what apps, programs, and websites you accessed on previous days, letting you quickly revisit past work.
Your Phone: The latest update to the Your Phone app now lets you send and receive your phone's messages from the keyboard of your desktop PC, all wirelessly. You can browse your phone's latest photos from your desktop, as well. Keep an eye on this app, as Microsoft plans to add more features.
Windows 10 is now a service: Perhaps most important, Microsoft treats Windows 10 as a constantly evolving service rather than a finished product. Microsoft keeps tinkering with Windows 10, adding, changing, or removing apps and features for as long as you own the device. (There's no way to stop Microsoft from changing Windows 10; you're expected to stomach these changes which take place automatically in the background.)
Unlike Windows 8 and 8.1, Windows 10 no longer feels like two operating systems crammed into one computer. It feels like a single operating system that can handle both tablets and desktop PCs.

For its first year of release, Windows 10 was a free upgrade for people owning fully patched Windows 7, 8, or 8.1 computers. The upgrade is no longer free, but it still keeps your files, apps, and programs in place. Owners of older PCs can also upgrade to Windows 10, but the upgrade will wipe out all your files and programs. You'll need to reinstall everything from a backup. (If your old computer is a slow crawler, it will still be a slow crawler after upgrading to Windows 10. You're probably better off buying a new PC with Windows 10 preinstalled.)

Windows no longer comes in a Windows RT version. If you bought a Windows RT tablet, such as the Surface RT or Surface 2, you can't upgrade it to Windows 10.
Why Does Windows 10 Keep Changing?
Microsoft calls Windows 10 a service rather than an operating system. Like any other service, it's subject to changes. Every month or two, Microsoft changes Windows 10 slightly. Some of Microsoft's changes occur more quickly: Your apps, for example, can update weekly. Some update daily.

Bigger changes arrive every six months, packed into large groups. You may have heard about the Anniversary Update in mid-2016, and the Creator's Update in 2017. Another big update arrived in Spring of 2020, bringing even more changes. (This edition of the book is up to date with all those changes.)

You may not notice these changes. Indeed, most of them just fix hundreds of annoying bugs, making Windows 10 run and install more smoothly.

Microsoft sends these updates automatically to your computer through Windows Update; you don't need to jump through hoops to find and install them.

Your apps update themselves automatically through the Microsoft Store. That's why the Music app automatically changed its name to the Groove Music app, for example. The Photos app suddenly added a way to search your photos by folder and to create slideshows.

So, when something suddenly changes with Windows 10, don't think it's your fault. Microsoft constantly changes Windows 10, and Windows will keep changing for years to come.
About This Article
This article is from the book:
This article can be found in the category: