Windows 8.1 moves away from the Windows 8 system. In Windows 8, the Charms bar's Search command was integrated throughout Windows. If you wanted to search for something inside an app, you'd fetch the Charms bar, click the Search icon, and type in your keyword.
Instead, in Windows 8.1 more apps come with a Search box built in to their upper-right corner. The Charms bar's Search command, by contrast, now looks for items on your computer and the Internet — and not necessarily in your currently viewed app.
The Windows 8 Search feature limited its search to matching apps unless specifically told otherwise. Windows 8.1, by contrast, searches everywhere for whatever you're seeking. When you type a keyword, the Search feature scours your entire computer as well as the Internet, and then lists matches.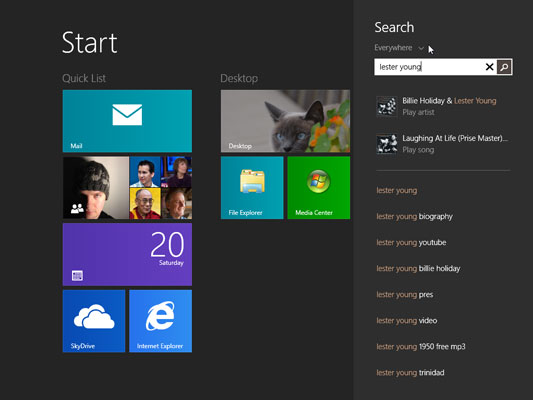 To search for missing things, follow these steps:
From the Start screen, begin typing what you'd like to find.

As you begin typing, the Search pane appears, and Windows begins searching for what it calls "everything" — matching items on your computer, as well as the Internet. Matches found on your computer appear atop the list; Internet matches appear beneath them, and a line separates the two groups.

If you're on a tablet and can't start typing, slide your finger inward from the screen's right edge; when the Charms bar appears, tap the Search icon. When the Search pane appears, start typing in the Search box.

If you spot your missing item, click to fetch it, or press Enter to see more detailed information about your search. Then jump ahead to Step 4.

If you don't see your sought-after item on the Search list, move on to Step 2 and narrow your search to a specific category.

Click the category you'd like to search.

Sometimes the Search box comes up with so many matches that they don't all fit on the screen. In that case, click the word Everywhere and route your search to one of these categories from the drop-down box:

Everywhere: The default option, this searches for a match both on your computer and on the Internet. When you begin typing directly onto the Start screen, Windows chooses this option automatically and begins listing matches found on your PC and the Internet.

Settings: This lets you search through the zillions of settings in both the desktop's Control Panel and the Start screen's PC Settings pane. It's a handy way to find settings dealing with only, for example, fonts, keyboards, backups, a mouse, or other technical tidbits.

Files: When you're tired of seeing Internet results, choose this to search for files only on your own computer.

Web images: This sends your search to the Internet and pulls up matching images, a quick way to see what a Buff-collared Nightjar really looks like.

Web videos: Another targeted Internet search, this pulls up a list of videos matching your search term.

Press Enter after typing your word or phrase, and Windows shows all matches.

Windows lists more detailed information about all the matching items.

Choose a matching item to open it, bringing it to the screen.

Click a song, for example, and it begins playing. Click a setting, and the Control Panel or PC Settings window appears, open to your setting's contents. Click a letter, and it opens in your word processor.
These tips can help you wring the most out of the Search feature:
If Windows finds more matches than it can stuff onto the screen, it hides some. For example, the figure displays all three Lester Young pictures and videos in its first column but shows only the first six Lester Young songs in the second column. To see the other songs, click the words See All 25 Songs beneath the second column. To see Internet results, keep scrolling to the right.

The Windows search scours every file in your Documents, Music, Pictures, and Videos folders, which makes storing your files in those folders more important than ever. (Windows doesn't let you search through private files stored in accounts of other people who may be using your PC.)

Windows doesn't search for files stored in removable devices, such as flash drives, CDs, DVDs, or portable hard drives.

If you're searching for a common word and Windows turns up too many files, limit your search by typing a short phrase from your sought-after file: Shortly after the cat nibbled the bamboo, for example. The more words you type, the better your chances of pinpointing a particular file.

The Search box ignores capital letters. It considers Bee and bee to be the same insect.

The Windows 8.1 Search pane routes your searches through Bing, the Microsoft search engine, and there's no way to change it.
About This Article
This article is from the book:
This article can be found in the category: