The PCmover software suite of programs from Laplink (www.laplink.com) transfers not only your old PC's files and settings but some of its programs, as well. That's more work than Microsoft's old Easy Transfer program ever attempted. The PCmover suite works on every Windows version from Windows XP to Windows 10. (It doesn't work with Windows RT, released on some inexpensive tablets.)

However, the powerful transfer programs come with a staggering array of potential complications, which isn't surprising: Moving from one PC to another is fraught with possible mishaps. (On the positive side, Laplink helps you move by offering free, 24‐hour tech support in United States, Canada, Australia, and the United Kingdom.)

Your first job is choosing which PCmover software you need: PCmover Home or PCmover Professional. Both let you transfer information only from one old PC to one new PC. That's usually not a problem, but keep in mind that you can't give the program to a friend after you've transferred your files.
PCmover Home: This minimalist package moves files, settings, and user profiles to your new PC. However, it won't move apps and programs.
PCmover Professional: The more popular (and more expensive) option, this software copies apps and programs to the new PC, as well as files, settings, and user profiles.
Both programs copy your old PC's files, settings, and some programs to your new PC, as shown. However, neither package guarantees to copy all of your programs. Because of technical reasons, some programs can transfer, but others won't. (The reasons behind those potential problems come with their own fine‐print section too detailed to list here.)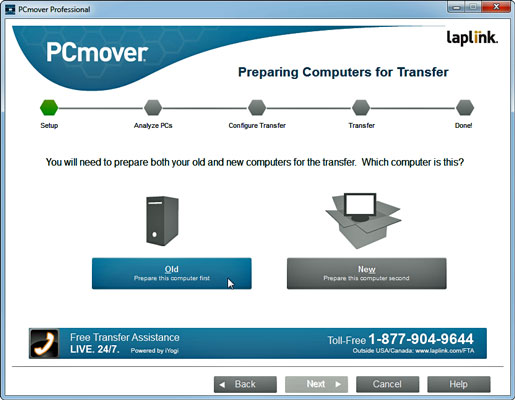 PCmover Professional helps you move from an old PC to a new one.
If you plan to transfer your files over a network, you can buy and download your chosen PCmover program from Laplink's website. Most people, however, find a better deal by buying the PCmover Ultimate boxed program from Amazon (www.amazon.com). That package includes PCmover Professional and a transfer cable, and it costs less than the version on Laplink's website.
The PCmover programs are copy‐protected, so you need a working Internet connection before you can begin using them. Also, depending on the amount of information on your old PC — and the way you connect your computers — the transfer process can take several hours.
In short, the PCmover software works best for somebody who's not only patient but also experienced enough with computers to know how to talk with tech support people if something goes wrong. (Tech support people usually speak very, well, technically.)
About This Article
This article can be found in the category: