Microsoft has made huge changes to the Windows 7 taskbar. It also has made it possible for you to customize many of the options and settings on the Windows 7 taskbar. You can move icons where you want, change the way the bar behaves, add toolbars, and pin any icon you want on it.
The taskbar comes preloaded with three icons next to the Start menu: Internet Explorer, Windows Explorer, and Media Player. To add more programs to the taskbar, just drag and drop a program's icon directly onto the taskbar. All your taskbar icons are movable, so feel free to rearrange them in to any order you want.
You can also right-click the icon on the Start Menu and choose Pin to Taskbar from the pop-up menu.
For even more customization, right-click a blank part of the taskbar, and choose Properties. The Taskbar and Start Menu Properties window appears. The options in this dialog box let you control the way the Windows 7 taskbar behaves.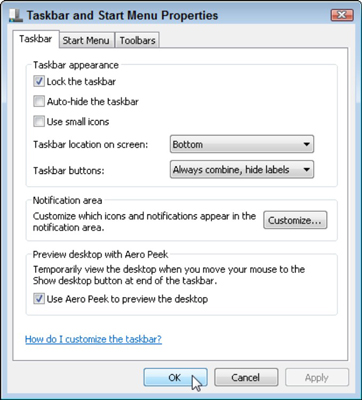 | Setting | What it Does |
| --- | --- |
| Lock the Taskbar | This keeps you from changing its appearance, such as making it taller to make room for more icons. Be sure you have things the way you want before you lock it. |
| Auto-Hide the Taskbar | This will make the taskbar automatically hide itself when you're not near it. (Point your cursor at the bottom of the screen to bring it back up.) |
| Use Small Icons | This shrinks the taskbar and its icons to half-height. |
| Taskbar Location On Screen | Choose any of the four edges of the screen. |
| Taskbar Buttons | This tells windows to group similar windows under one button to protect the taskbar from overcrowding. |
| Notification Area | Use this to decide what icons should appear in the notification area (down by the clock). |
| Preview Desktop with Aero Peek | Turn on or off the ability to point at the strip on the taskbar's far right edge to see under all the open windows on your desktop. |
Feel free to experiment with the taskbar until it looks right to you. After you've changed an option, see the changes immediately by clicking the Apply button. Don't like the change? Change the setting and click Apply again to undo the damage.
Some of the taskbar options won't work if the task bar is locked.
About This Article
This article is from the book:
This article can be found in the category: