The Windows Home Server (WHS) allows you to have up to ten users at a time. Each user must use an approved logon name and password to access the files and to ensure that their files are protected. Adding and changing users in Windows Home Server isn't difficult, but it has to be consistent on both the server and the PC.
Usernames/logon names should be synced between the Windows 7 computer and the WHS. Not only does this make things easy, it also allows the WHS to log you in while you're logging into your Windows 7 PC. If you log on to the PC using an unrecognized username, you'll receive error messages letting you know that you're not connected to the server.
Bring up the Windows Home Server Console. At the top of the console, click the User Accounts tab.

You can access the WHS Console by clicking the up arrow in the notification area and double-clicking the WHS icon. When prompted, supply your username and password. You should see a list of all usernames recognized by the WHS server.
In addition to the regular usernames, there's always an account named Administrator and one named Guest. Both are special accounts that you shouldn't touch unless you have a high tolerance for pain.
In the upper-left corner, click the Plus icon that says Add.
Windows Home Server, working inside the WHS Console, opens the Add User Account dialog box.
(Optional) Type in the Logon Name box a username that matches, precisely, the Windows 7 username of the person you want to add to the server.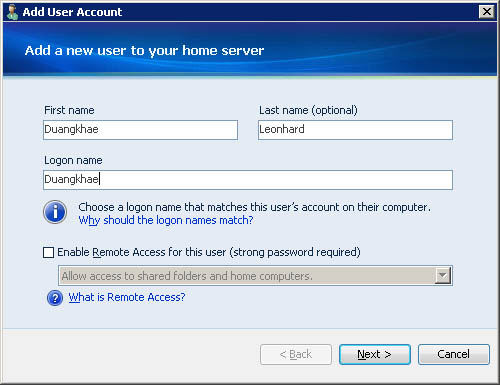 Although this step isn't absolutely necessary, it definitely makes life easier and avoids a lot of security issues.
If you're feeling so compelled, you can also type the new user's first and last names. Click Next.
WHS asks you to type a password for the new account.
Type the password and click Next.
Note that this password applies only to the server. Any password you type in this dialog box has no effect on your computer's password.
WHS passwords must be five characters long or more. You can change the minimum requirements to make them more secure if you feel so inclined. To do so, click the Settings tab at the top of the console and then click Passwords on the left.
Set Read Only or Full access to the shared folders and click Finish.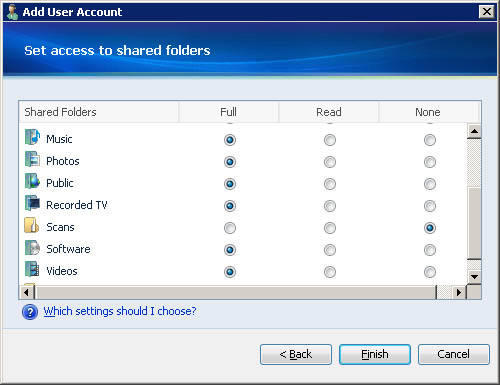 WHS takes a few minutes to update its records and then tells you that the new account has been added successfully.
About This Article
This article is from the book:
This article can be found in the category: