When you first set up OneDrive in Windows 10, it offers only two options: You can copy every folder to your OneDrive online cubbyhole, or just copy a few important folders.

This works well for most devices, but some people need more options. For example, if you choose to sync only a handful of folders, the rest of your folders remain invisible: You won't be able to see them on your PC, even if you need them at a later date.

Windows 10 fixes that complaint. Dubbed "Files On Demand," this feature lets you see the names of every file and folder you've stored on OneDrive. Then, you can quickly open a OneDrive file or folder even if it's not stored locally on your PC. OneDrive simply grabs the file from the Internet and places it onto your computer. (This depends on your having a working Internet connection at the time, of course.)

OneDrive's new Files On Demand feature lets you see all your files on all your devices. Yet, it lets you save space on devices that don't have much storage space. For example, you can sync your entire music collection only on devices with a lot of storage spaces. But your device that lacks storage can still see the music and, if you have an Internet connection, listen to it whenever you like.

You can even see thumbnails of more than 270 different file types — even if they're not stored on your computer.

To turn on OneDrive Files On Demand, follow these steps:
From the taskbar's notification area, right-click the OneDrive icon and choose Settings.You may need to click the little upward-pointing arrow in the notification area to see the OneDrive icon.

OneDrive's Settings dialog box appears, open to the Account tab.

Click the Settings tab, and in the Files On Demand section, select the Save Space and Download Files as You Use Them check box.
Click the OK button to close the window.Now, even though your OneDrive files aren't saved on your PC, you can see their names.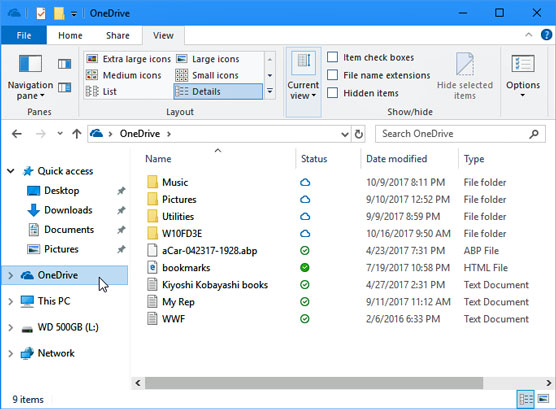 OneDrive Files On Demand shows the name of every stored file and folder, as well as its status.
The key to understanding OneDrive Files On Demand is to look at the three little icons next to each file's name. Here is what each icon means:
Online only: This file is available online only; you need an Internet connection in order to access it.
Locally available: You've opened an online only file, so now it's available on your PC. Any edits you make will also change the copy stored on OneDrive. If you need to free up space and remove it from your PC, right-click it and choose Free Up Space. (A copy will remain on OneDrive, and the file's icon on your PC will change to Online Only.)

Always keep on this device: Files and folders with this icon are always available on your PC, even without an Internet connection.

To change the status of a file or folder, right-click it. There, you can choose between these three settings:
View Online: This downloads your file or folder to your PC and opens it for you to view or edit.
Always Keep On This Device: This also downloads the file or folder to your PC. However, it doesn't open it. It's handy mostly for grabbing folders that you always want to have available, even without an Internet connection.
Free Up Space: This deletes the file from your device, which frees up storage space. It keeps that file stored on OneDrive, though, where you can fetch it again whenever you have an Internet connection.
These tips will help you discover whether OneDrive Files On Demand is worth turning on, and how to use it on different devices:
If your device has plenty of storage space, as do most desktop PCs, don't bother with Files On Demand. Simply choose Make All Files Available.
If your device doesn't have much storage, but you want to see the names of all your OneDrive files and folders, turn on OneDrive Files On Demand. Then, when you have an Internet connection and need a file or folder, just open it, as if it lived on your PC. Windows will quickly download and open it.
If you store a lot of music or videos on OneDrive, you may want to turn on OneDrive Files On Demand. That way you can see every file and access them when you have an Internet connection, but you needn't store all of them on that device.
By assessing your needs, your device's storage limits, and the availability of your Internet connection, you can customize OneDrive's Files On Demand feature to meet each of your device's needs.

OneDrive's Personal Vault. Near the end of 2019, Microsoft added a new Personal Vault folder to OneDrive. A Personal Vault is a fancy term for what looks and acts like a regular OneDrive folder, but with one big difference: In order to open it, you need to pass a second layer of security. That security could be as simple as running your fingertip over a fingerprint reader or looking into a camera. You can also enter a PIN, or a secret code sent to you through email or a phone message. After 20 minutes of inactivity, the Personal Vault automatically locks itself, keeping your most sensitive files secure, yet accessible.
About This Article
This article is from the book:
This article can be found in the category: