No matter whether you choose a brick-and-mortar bank or an online bank, technology has allowed people to do more and more of their banking on the Internet. With this benefit come some important points to remember to protect yourself and your dinero.
Evaluating a bank: What to look for
When looking for a bank that fits your needs, put on your detective hat and get ready to search for the best deals. You don't want to pick a bank just because that's where your parents or a co-worker bank.

So what do you look for? You first want to look for a bank that participates in the U.S. government–operated Federal Deposit Insurance Corporation (FDIC) program. Otherwise, if the bank fails, your money isn't protected. The FDIC covers your deposits at each bank up to a cool quarter million dollars.

Some online banks are able to offer higher interest rates because they're based overseas and, therefore, don't participate in the FDIC program. (Banks must pay insurance premiums into the FDIC fund, which, of course, adds to a bank's costs.) Another risk for you is noncovered banks that take excessive risks with their business to be able to pay depositors higher interest rates.

When considering doing business with an online bank or a smaller bank you haven't heard of, you should be especially careful to ensure that the bank is covered under the FDIC. And don't simply accept the bank's word for it or the bank's display of the FDIC logo in its offices or on its website.

Check the FDIC's website database of FDIC-insured institutions to see whether the bank you're considering doing business with is covered. Search by going to the FDIC's "BankFind" page. You can search by the bank's name, city, state, or zip code. For insured banks, you can see the date it became insured, its insurance certificate number, the main office location for the bank (and branches), its primary government regulator, and other links to detailed information about the bank. In the event that your bank doesn't appear on the FDIC list yet the bank claims FDIC coverage, contact the FDIC at 877-275-3342.

In addition to ensuring that a bank is covered by the FDIC, also seek answers to these questions:
What's the bank's reputation for its services? This may not be easy to discern, but at a minimum, you should conduct an Internet search of the bank's name along with the word "complaints" or "problems" and examine the results.
How accessible and knowledgeable are customer-service people at the bank? You want to be able to talk to a live, helpful person when you need help. Look for a phone number on the bank's website and call it to see how difficult reaching a live person is. Ask the customer-service representatives questions to determine how knowledgeable and service oriented they are.
What are the process and options for withdrawing your money? This issue is important to discuss with the bank's customer-service people because you want convenient, low-cost access to your money. For example, if a bank lacks ATMs, what does it charge you for using other ATMs?
What are the fees for particular services? You can probably find this information on the bank's website in a section called "accounts terms" or "disclosures." Also, look for the Truth in Savings Disclosure, which answers relevant account questions in a standardized format. This figure shows an example of a bank's disclosure for its savings account.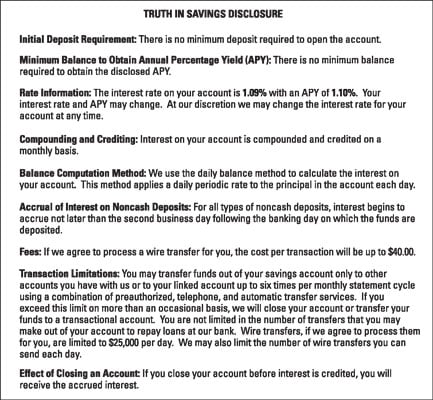 Sample Truth in Savings Disclosure for a bank's savings account.
Protecting yourself online
The attractions of banking online are pretty obvious. For starters, banking on your computer whenever you want can be enormously convenient. You don't have to race around during your lunch break to find a local bank branch. And thanks to their lower overhead, the best online banks are generally able to offer competitive interest rates and account terms to their customers. Even if you go with a brick-and-mortar bank, you can usually also bank online.

You probably know from experience that conducting any type of transaction online is safe as long as you use some common sense and know who you're doing business with before you go forward. That said, others who've gone before you have gotten ripped off, so you do need to protect yourself.

Folks have been taken online to the tune of more than one billion dollars a year, according to the Internet Crime Complaint Center (ICCC), which is a joint government effort between the Federal Bureau of Investigation and the National White Collar Crime Center.

ICCC and other online security experts recommend that you take the following steps to protect yourself and your identity when conducting business online:
Never access your bank accounts from a shared computer or on a shared network, such as the free access networks offered in hotel rooms and in other public or business facilities.
Make certain that your computer has antivirus and firewall software that's periodically updated to keep up with the latest threats.
Be aware of missed statements that could indicate your account has been taken over.
Report unauthorized transactions to your bank or credit-card company as soon as possible; otherwise, your bank may not stand behind the loss of funds.
Use a complicated and unique password (including both letters and numbers) for your online bank account.
Be careful about the sites you visit. Sites purporting to offer free-access music, games, and movies are often sources of viruses and trojans that fraudsters use to steal your account information.
Watch out for phishers, people posing to be your bank or bank's representative. If "they" are contacting you, especially through email, it's likely to be fraud. Never follow a bank link directly from an email; always visit the bank website directly by typing in the URL.
Log out immediately after completing your transactions on financial websites.
About This Article
This article is from the book:
This article can be found in the category: