If your Mac has a built-in, dial-up fax modem, you don't need a dedicated fax machine. Just connect a telephone cord to the Mac's modem jack, and you can fax without printing a document and sending it through a dedicated fax machine. Instead, you send faxes directly from any program with printing capabilities.
Open the document you want to fax and choose the File command and then Print. Click the PDF button and choose Fax PDF from the pop-up menu.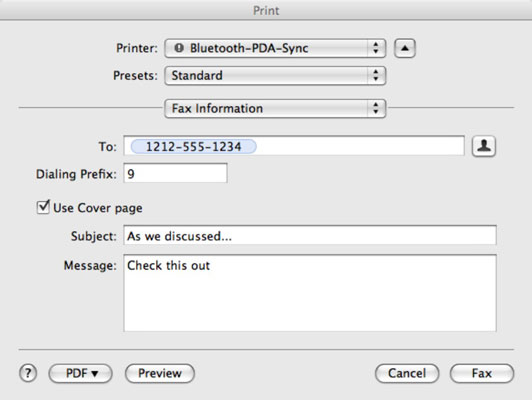 A sheet, such as the one shown in the figure, appears.
In the To field, type the fax number of the person to whom you want to send the fax, including 1 and the area code. In the Modem box, select Internet Modem (or whatever) as the means for dispatching your fax.
If you need to access an outside line, add a dialing prefix, such as 9, in the fax number box. Alternatively, choose an entry from your Address Book by clicking the shadowy silhouette icon to the right of the To field and then double-clicking the card of the contact to whom you want to fax.
If you want a cover page, select the Use Cover Page option and type a subject line and brief message.
If you click the pop-up menu that says Fax Information, you can choose other options to schedule the delivery of your fax or alter the layout.
Use the preview window to review the fax before sending it and then click the Fax button.
You should hear a faxing sound.
About This Article
This article can be found in the category: