Before getting into the nitty-gritty of how you can begin using web analytics, testing tactics, and segmentation and targeting initiatives to ignite growth in all layers of your e-commerce sales funnel, you first need to understand the fundamental structure and function of each layer in a sales funnel.

In keeping with a logical and systematic approach, the e-commerce sales funnel can be broken down into the following five stages: acquisition, activation, retention, referral, and revenue.

Acquisition, activation, retention, referral, and revenue are also referred to as AARRR, the pirate metrics. (Say "AARRR" out loud a few times and you'll know why it's called the pirate metrics.) This growth framework was originally suggested by famed angel investor and entrepreneur, Dave McClure. The term is now widely used throughout the growth-hacking community.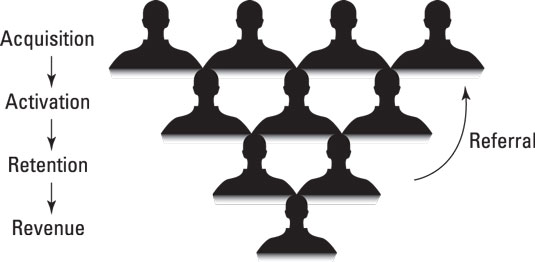 The AARRR of the e-commerce sales funnel.
Here are the functions of each stage of the sales funnel:
Acquisition: Your brand acquires new users in the form of website visitors. New users are often acquired via social media marketing, search engine marketing, search engine optimization, content marketing, or partnerships.
Activation: Acquired users activate, either through email subscription, RSS subscription, or social followings.
Retention: Activated users take some sort of action — such as accepting an offer or responding to a call to action within your email marketing campaign.
Referral: Retained users refer new users to your brand's acquisition layer.
Revenue: Users make revenue-generating purchases.
About This Article
This article is from the book:
This article can be found in the category: