When you start exploring the world of horse shows, you may discover that the types of shows out there are as numerous as the breeds of horses — more so, in fact. And those shows offer a variety of classes, or categories of competition — pleasure classes so you can show off your horse's body structure and movement, dressage classes so you can flaunt your horse's training, and equitation classes to demonstrate that your riding technique is just right.

Test your jumping skills in hunter hack and hunters over fences; negotiate obstacles in trail and gymkhana classes; let the cow classes show you how you'd fare as a ranch hand out West; and through vaulting classes, do gymnastics on a moving horse. You and your horse can even get all decked out for heritage classes and compete with an authentic costuming look. If nothing else, shows certainly give you plenty of options.

The type of show or shows you choose to participate in depends on your level of riding, your chosen discipline, your breed of horse, and how much commitment you want to make to riding and showing. Your instructor or trainer can help you determine which shows you should enter, depending on your riding level.

Ultimately, the sky's the limit for horse shows. If you had unlimited amounts of time and money, you could do them all. But because that's pretty unlikely, focus on the particular type of show that's best for you at a given time. I provide some guidance on different horse shows in the following sections.
Learn the ropes at schooling shows
When you're a beginning horseback rider and a novice exhibitor, the first type of show you want to enter is a schooling show. These shows are just as they sound: they're for schooling, or training. Under very little pressure, both you and your horse gain experience showing at a schooling show. Your competition is other beginners like yourself, so the playing field is fairly level.

You can find schooling shows by checking in a local horse publication, looking for signs in your local tack and feed store, or checking online for upcoming equine events. Schooling shows are usually put on by local riding clubs or commercial stables. The classes vary depending on the discipline of the show, and the shows usually last only one day. The entry fees are very affordable, usually around $10 to $15 per class.
Western only
Some schooling shows feature only Western riding classes. Among others, these classes usually include
Western pleasure: Horses in Western pleasure are judged on how well they carry themselves and move with a Western rider. The horses are judged at the walk, jog, and lope.
Trail obstacle: In trail obstacle classes, judges evaluate horses one at a time and observe them as they encounter obstacles in an arena, such as a mailbox, a wooden bridge, and a tarp laid out on the ground.
Equitation: Riders, not horses, are judged in equitation classes. Judges look for proper body position at the different gaits of walk, jog, and lope.
Western schooling shows sometimes have timed gymkhana events, in which horses run one at a time around barrels or poles. On occasion, the shows also have showmanship classes (which require a handler, who's being judged, to present a horse for evaluation) and halter classes (which are performed with the horses "in hand" instead of under saddle). However, halter classes are more typically part of a breed show, which I discuss later on.

Riders are expected to dress in Western apparel, although they don't need fancy clothes or expensive tack on their horses.
English only
A great many schooling shows are for English riders, specifically those who ride hunt seat. Classes usually include
Hunters over fences: Horses are judged one at a time as they negotiate a series of fences. Judges look for good form as the horse approaches and jumps over each obstacle.
Hunter hack: One at a time, horses are judged as they're asked to negotiate two small fences. Judges look for good form as the horse approaches and goes over the jumps.
Equitation: Only riders face judging in this class. They're evaluated for proper body position at the walk, trot, and canter.
Jumping is the primary focus of these shows, which are great for helping novices in the show world get their feet wet in the ring. Riders in these classes enter the arena by themselves and perform the course as prescribed by the show steward. Before the class begins, riders memorize the course and walk it on foot to become familiar with the pattern and distance between jumps.

The figure shows riders in an English schooling show.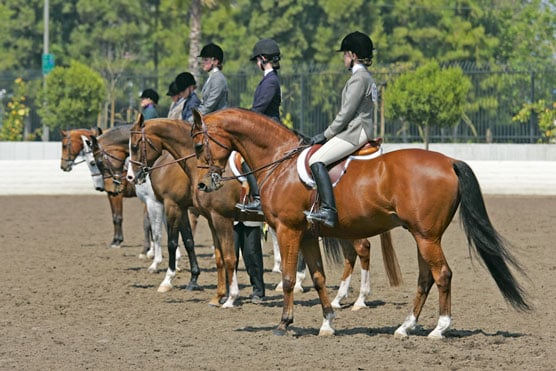 Photo courtesy of Sharon P. Fibelkorn
A class at a hunt seat show lines up for the judge's decision.
Western and English
Some schooling shows feature classes in both disciplines, usually on different days. Because multidisciplinary shows have a large number of classes, they usually take two days to complete.

Finding a one-day schooling show with both disciplines is fairly rare, but some do exist. They give riders a chance to find out about the other discipline and see how different Western and English horses really are.
Raising the bar at rated shows
Beyond the world of schooling shows lay the rated shows. These events are recognized by the United States Equestrian Federation (USEF), formally known as the American Horse Shows Association and the United States Equestrian Association. The USEF represents the United States in the Fédération Equestre Internationale (FEI), the international group that recognizes high-level competitive equine events around the world.

The USEF, which is a national body, rates horse shows A, B, or C, with A shows offering the greatest competition and prestige. C-rated shows are the events most attended by novices to the show world. B shows are for those who are beyond C shows but aren't quite ready for the A level. The shows are often part of a circuit, which means that several shows are held during a given show season in a particular region.

Local horse show associations usually hold rated shows over two days or more, and the shows can be discipline specific or open to all breeds and disciplines. These shows follow USEF rules. Points are frequently awarded in certain disciplines, and in these situations, competitors may receive year-end awards.
Welcoming competition in open shows
Shows that allow all breeds of horses are called open shows. An open show can be a schooling show or a rated show (see the preceding sections). The term distinguishes a particular show from a breed-specific show, where only one breed is allowed to compete.

Open shows can be Western or English or both. These shows can be a lot of fun to watch because you can see horses of every size, shape, and color competing against one another.
Breed shows
Nearly every breed of horse has a national association that represents it. Associations for the more popular breeds often have enough active members to sponsor breed-specific shows. Regional member clubs that belong to the national association usually put these shows on, although the national association may directly hold large national shows each year. The larger associations have one of these events annually, usually at the same venue each year.

Breed shows typically offer classes in both Western and English. Many classes are the same as those you see in schooling shows (see the earlier section on schooling shows), although some shows also include driving classes (in which horses are judged in harness while pulling a cart) and other events specific to the breed. Paso Fino shows, for example, include a class in which the horses display their special gait on a wooden board so the judge can hear the quality of that gait. At Appaloosa shows, a heritage class allows exhibitors to dress themselves and their horses up in period attire.

Most breed shows have a halter class, in which horses are not ridden but are rather presented to the judge wearing only a show halter. The judge evaluates the horses for their conformation (the way they're built) and places them according to how closely each horse matches its breed's blueprint, or standard. The figure depicts an Appaloosa halter class.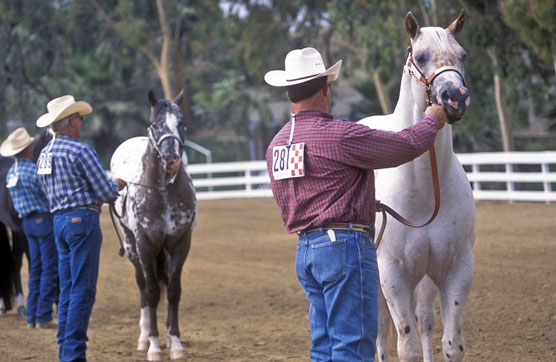 Photo courtesy of Sharon P. Fibelkorn
Horses in an Appaloosa halter class are presented for the judge's evaluation.
If you're interested in a particular breed, check out a local breed show. You can discover a lot about how these horses are shown and meet many other people with a passion for the same kind of horse. If you decide you'd like to compete in one of these shows, start working with a trainer who specializes in your breed of choice.
Specialty shows
Some shows focus exclusively on one event within a discipline. Before you can compete at a specialty show, you need to advance quite a bit in your riding, and you have to be mounted on a horse who's specifically trained for one of these events. These shows may highlight one of the following:
Reining: In this Western activity, horses go through a pattern at the lope and are judged on their responsiveness as well as their abilities.
Cutting: A Western activity, cutting requires that the rider ask his or her horse to separate a cow from a herd and keep that cow from joining the group for a specified amount of time.
Dressage: Called the ballet of the horse world, horse-and-rider teams are judged on their ability to execute a series of complex moves.
Jumping: Events strictly for show jumping feature classes designed to challenge a horse and rider's courage and ability to negotiate high fences.
Gymkhana: This Western activity involves timed events in which horse-and-rider teams individually negotiate either barrels or poles with speed and precision.
Vaulting: A form of gymnastics on horseback, vaulting features riders who perform various maneuvers on a cantering horse who's moving in a circle while attached to a lunge line.
At these shows, all breeds are usually welcome.
About This Article
This article is from the book:
This article can be found in the category: