The plan was to do a photo shoot on Gasparilla Island, but Mother Nature intervened and it rained; actually it poured down rain. The rain stopped, but the sun never came out. On the way back home, these yellow flowers were spotted growing up a wall. After a quick switch to the Lensbaby Composer with the Double Glass Optic, the photograph was taken.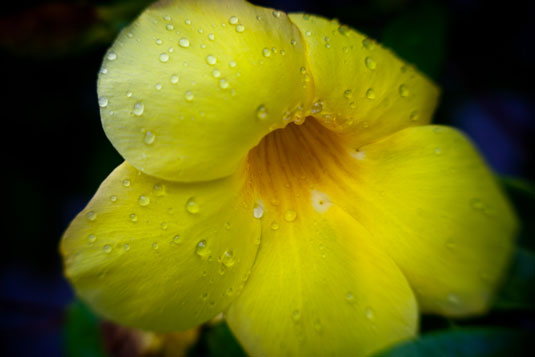 Camera settings
ISO setting 500: The combination of an overcast sky and smaller aperture forced a higher ISO in order to get a faster shutter speed.

Exposure compensation 0 EV: Lensbaby images have plenty of color saturation, and the overcast skies and water also helped to increase saturation.

Focal length 50mm with a +4 Macro extension: The Lensbaby Macro extensions do a wonderful job of getting in close and still delivering a good image.

Aperture f/4.0 aperture disc: Every Lensbaby optic except the Pinhole/Zone Plate and the Sweet 35 use aperture discs. This aperture disc with the Double Optic would give me a fairly sharp image with a large sweet spot.

Shutter speed 1/160 of a second: A faster shutter speed is useful when photographing any kind of close-up.
Composing the image
This one was pretty much a no-brainer. Get as close as you can to the flower with the lens and macro extensions and take the picture. The dark foliage around the flower serves as a frame to direct viewers' attention to the flower.
Post processing
A vignette was added to darken the edges of the image, and the saturation was increased to make the colors pop.
About This Article
This article can be found in the category: