Florida's Sanibel Island is a treasure-trove for the nature photographer. Ding Darling Refuge is full of birds and other native wildlife. One blustery January day, the sun was sinking low; with the high clouds, it looked like the sunset would be spectacular. This image was photographed a few minutes after the sun set.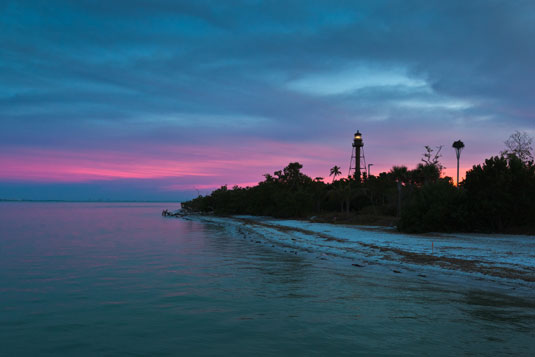 Camera settings
ISO setting 800: This was a result of the lack of light. Fortunately, the camera had a full-frame sensor, which gave a relatively noise-free image.

Exposure compensation 0 EV: The camera got the exposure spot-on.

Focal length 40mm: The photographer zoomed in until he saw the composition come together in the viewfinder.

Aperture f/6.3: There was not enough light to use a smaller aperture. However, there was still a decent depth of field with this f-stop and a 40mm focal length.

Shutter speed 1/25 second: Mounting the camera on a tripod with a shutter speed this slow would have been recommended, however, Canon's excellent image stabilization and a steady hand resulted in a blur-free image.
Composing the image
The lighthouse was a focal point in this image, so it was placed on a power point according to the Rule of Thirds. To draw attention to the colorful clouds, the horizon line was placed in the lower part of the image, but not in the lower third because of the pleasing reflections in the water.
Post processing
In addition to saturation, the horizon line was straightened, which originally was crooked.
About This Article
This article can be found in the category: