The GoPro camera goes anywhere, doing so with an impressive set of mounting options. Some are quite specific to activity; such as using the Handlebar/Seatpost/Pole mount on your bicycle, as shown, or the Surfboard mount for — wait for it — your surfboard.

Other mounts are more universal, such as the Suction Cup, Flex Clamp, or adhesive mounts. Then, there is the Head Strap, Chesty, and the Strap for times when you want to wear your GoPro. You can also go old school by using a tripod adapter and attaching it to your three-legged friend for stability.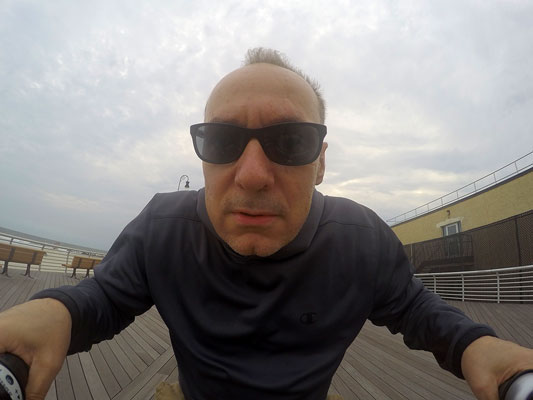 GoPro mounted on bicycle handlebars using the Handlebar/Seatpost/Pole mount.
Consider the following:
Use the right mount: There are dozens of mounting choices for your GoPro; choose the one that works for your shot. Also, make sure it's properly secured, so you don't mess up the shot, damage your camera, or hurt someone.
Use a tripod: The diminutive GoPro will be hardly noticed atop your tripod, but looks aren't everything. While as disproportionate as a cartoon character with a tiny head and a large body, the benefits are overwhelming when it comes to great stability and precise framing. You will need an optional adapter, but it's worth it.
Rehearse your moves: For those times when you're wearing the camera, the difference between capturing impressive footage and having trash can discards lies in effectively moving though the scene. That's why it's a good idea to practice your moves before hitting the record button. Use the app to view your movements and tweak them for capturing the scene.
About This Article
This article is from the book:
This article can be found in the category: