The Video Snapshot feature on the Canon EOS Rebel T7i/800D captures short video clips that are stitched into a single recording, called a video album. You can set the clip length to 8, 4, or 2 seconds long (but all clips in an album must be the same length).

Given the brevity of the individual clips, I doubt you'll find much use for this feature. But it's worth mentioning anyway if only to explain that when you put the camera in Movie mode, a Video Snapshot symbol appears, as shown. (If you don't see any data onscreen, press the Info button to change the display style.)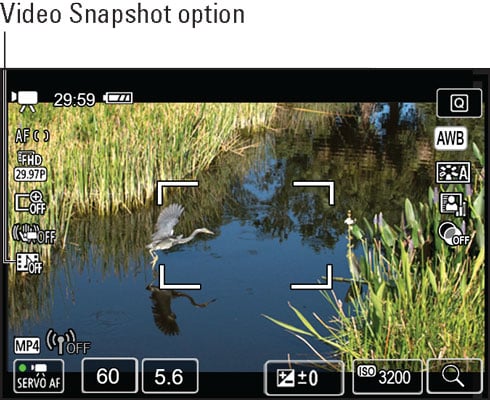 The Video Snapshot feature joins brief video clips into a single movie.
To record a snapshot album, press Q to enter Quick Control mode and select the Video Snapshot icon. Exit Quick Control mode and press the Live View button to record the first clip. You're then prompted to create a new album to store the clip or to choose an existing album. After that bit of business is completed, you can record your second clip.
By default, the camera records 4-second clips, but you can alter the clip length and set a few other recording choices from the Video Snapshot menu item. In the P, Tv, Av, and M exposure modes, the option is found on Shooting Menu 5; in other modes, Shooting Menu 3. Control audio recording via the normal movie-recording sound options.
You can't record normal movies when the Video Snapshot feature is enabled, so be sure to re-enter Quick Control mode to disable it after you create your album.
About This Article
This article is from the book:
This article can be found in the category: