Keeping your dog healthy and happy involves having the right supplies, toys, and medicine on hand, knowing when to take your dog to the vet, and practicing preventive care.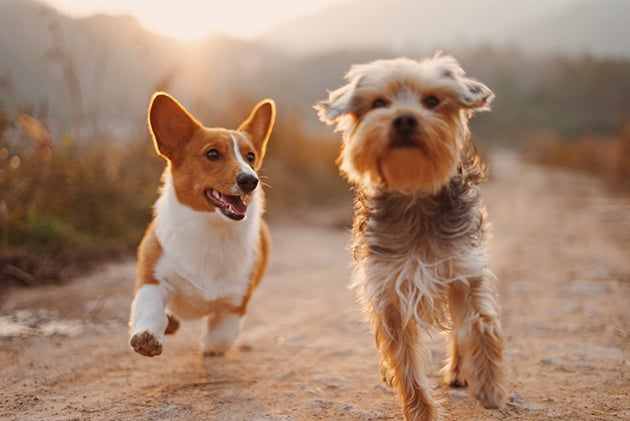 Photo: Alvan Nee / Unsplash
Things to Buy Before Bringing Your Puppy Home
If you plan to get a new puppy (or just did), be sure to have the following essential items either before, or shortly after, you bring your puppy into its new home.
Baby gates (for keeping puppy corraled)

Brush and comb

Chew toys

Dishwasher-safe, non-chewable bowls (one for water, one for food)

Enzyme cleaner for pet stains

Flat or rolled collar, buckle or snap-together with an ID tag — not a slip collar

High-quality puppy food, as recommended by a breeder or veterinarian

Lightweight leash, 6 feet long

Nail trimmer and Kwik Stop Styptic powder (to stop minor bleeding)

Pooper scooper

Properly sized shipping crate (for housetraining)

Puppy shampoo
When to Get Emergency Veterinary Care for Your Dog
Seek urgent veterinary care if your dog displays any of the following symptoms. If your dog is ever injured or sick and you're not sure what to do, call your vet. Better safe than sorry!
Allergic reactions, such as swelling around the face, or hives, most easily seen on the belly

Any eye injury, no matter how mild

Any respiratory problem: Chronic coughing, trouble breathing, or near drowning

Any signs of pain: Panting, labored breathing, increased body temperature, lethargy, restlessness, or loss of appetite

Any suspected poisoning, including ingestion of antifreeze, rodent or snail bait, or human medication

Any wound or laceration that's open and bleeding, or any animal bite

Seizure, fainting, or collapse

Snake bite

Thermal stress, either too cold or too hot, even if the dog seems to have recovered

Trauma, such as being hit by a car, even if the dog seems fine

Vomiting or diarrhea, anything more than two or three times within an hour or so
Preventive Health Checklist for Dogs
Be proactive to prevent illness and injury and keep your dog healthy and happy. Use the list below as a guide for care at each stage of your dog's life. Also, talk with your vet about what is best for you and your pet.
Puppy veterinary care
Initial exam within 48 hours of adoption.

Four to five combination vaccinations at three-week intervals, starting at the age of 6 to 8 weeks. Rabies vaccination at 16 weeks.

Wormings as prescribed by your veterinarian, at two- to three-week intervals or until the fecal test comes up clear.

Heartworm preventive. No heartworm test is required if puppy's mother was on preventive and puppy is started by the age of 12 weeks.

Follow-up exam at time of final vaccinations to spot congenital problems, retained baby teeth, and so on.

Spaying or neutering, as early as 8 weeks, as recommended by your veterinarian.
Adult veterinary care
Annual examination, which may include periodic chemistry profile and urinalysis, especially for older pets and prior to procedures requiring anesthesia.

Combination vaccination, annually. Rabies vaccination, once every three years or as required by law.

Heartworm testing.

Dental cleaning and scaling under anesthesia, annually or as recommended by your veterinarian.
Adult home care
Heartworm preventive, daily or monthly

Nail trim, weekly

Regular bathing and grooming

Home exam, including checking for lumps and bumps, weekly

Tooth-brushing, two to three times a week

Regular flea-control program
What to Keep in Your Dog's First Aid Kit
Always keep the following items handy in case your dog needs minor medical attention. It's best to even create a special first-aid bag or medicine chest exclusively for your dog:
Adhesive tape

Benadryl antihistamine

Betadine antiseptic

Buffered aspirin

Cotton swabs, balls, and rolls

Eye wash

Forceps or tweezers

Hydrogen peroxide

Kwik Stop powder

Scissors

Sterile gauze, both rolls and pads

Syringe with the needle removed (for giving liquid medication)

Syrup of ipecac

Thermometer

Tranquilizers (as prescribed by your veterinarian)

Triple antibiotic cream or ointment

Vet Wrap padded bandages

Water-based lubricating jelly, such as K-Y
About This Article
This article can be found in the category: