Before you bring home a Siberian Husky, make a few purchases and assemble a first aid kit so you and your house are ready for a new dog. Study a few symptoms that require a call to your veterinarian, in case your Husky gets sick.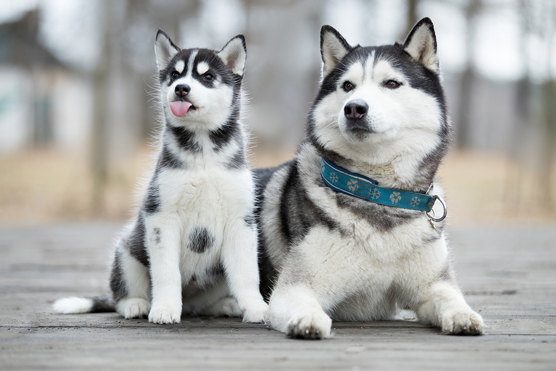 © Vivienstock / Shutterstock.com
Items for your Siberian Husky first aid kit
This list includes first aid kit items you should have in case your Siberian Husky needs medical attention. Keep your Husky's first aid kit in a travel case or a small tote for easy storage and portability (for vacations, doggy play dates, and so forth.).
Ace bandage
Activated charcoal
Adhesive tape and gauze
Alcohol prep pads
Antibiotic ointment
Benadryl antihistamine (1 to 2 milligrams per pound, every 8 hours)
Cold pack
Cotton balls
Disposable gloves
Ear and oral syringe
Electrolyte tablets to rehydrate
Epsom salts
Eye wash or lubricant (the kind made for people is fine)
Gauze sponges
Hydrogen peroxide (1 to 3 teaspoons every 10 minutes until the dog vomits)
Imodium A-D (1 milligram per 15 pounds, once or twice daily)
Kaopectate (1 milliliter per 1 pound every 2 hours)
Magnifying glass
Milk of magnesia, antacid and laxative
Mineral oil, laxative (5 to 30 milliliters per day)
Pepto-Bismol, anti-diarrheal syrup (1 teaspoon per 5 pounds, every six hours) or tablets
Petroleum jelly
Providone-iodine solution
Rectal thermometer (specifically made for canine use)
Rubbing alcohol
Safety pins
Soft cloth muzzle
Scissors (small blunt-end type)
Splints
Tweezers or hemostat
Preparing to bring your Siberian Husky home
To get your house ready for a Siberian Husky, purchase a few items that will keep your dog happy and safe — and prevent you from making last-minute trips to the pet store.
Collars, harnesses, and leashes
ID tags
Food and treats
Food and water dishes (preferably stainless steel)
Grooming tools (including a rake, a wide-toothed metal comb, a slicker brush, a pin brush, a dematting tool, a spray bottle filled with water, and a grooming table)
Dog bed
Crate for training
Gates (to restrict your Husky's access to certain areas of the house, especially before he is completely housetrained)
Safe chew toys
Pet door (if you have a fenced yard for your Husky to enter)
Outdoor run or kennel
When to call the vet for your Siberian Husky
If your Siberian Husky shows any of the following symptoms, it's time to call the vet. It could be a sign of something serious. It's always better to call if you are in doubt.) Your vet will know if you need to bring in your dog.
Breathing difficulties (Emergency!)
Bloat (Emergency!)
Blood in feces, urine, or vomit
Deep cuts or wounds
Eye and vision problems (bloodshot, discharge, unusual tearing)
Facial swelling (allergic reaction)
Lumps and swellings
Pale gums
Paralysis
Persistent coughing
Persistent lameness
Prolonged lethargy
Refusal to eat (for 48 hours) or drink (for 12 hours)
Seizure or shaking
Severe or prolonged diarrhea
Unexplained weight loss
Any outward sign of pain
If you dog has been struck by a car or taken a serious fall, contact your vet immediately, even if you see no outward signs of injury!
About This Article
This article is from the book:
This article can be found in the category: