Many people think wolves, Siberian Huskies, Malamutes, and "Alaskan Sled Dogs" are all pretty much the same thing. But they aren't. In fact, the original breeders of the Siberian Husky did little to alter his wolf-like appearance, other than his size.

They wanted a smart, strong, domestic animal, who could run fast and wouldn't bite his owners. They paid little attention to nonessential, purely aesthetic factors, which is one reason that the odd and fanciful features of some breeds, like the Shar-pei's wrinkles, or the floppy ears of the Irish Setter, never developed in Huskies. (Their blue eyes must be purely serendipitous.)

The following sections look more closely at the breeds often confused with Siberian Huskies.
Alaskan Malamutes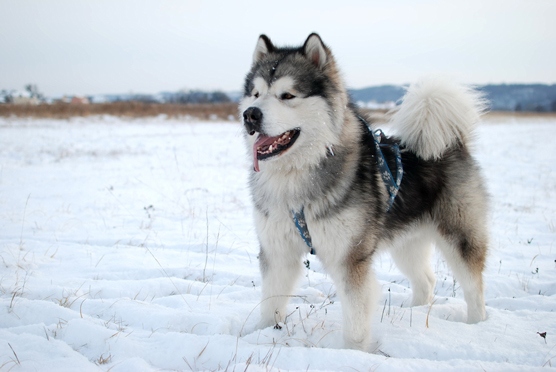 © DiLiDon / Shutterstock.com
Even though the Alaskan Malamute and the Siberian Husky bear a superficial resemblance to each other, the Alaskan Malamute has an entirely different history from the Siberian. Malamutes were developed by the Eskimo people known as the Mahlemiut, whose dogs became much in demand as freighting animals during the Alaska Gold Rush of 1896.
They're larger, slower, and more powerful than Huskies, and they never have blue eyes. Malamutes can also have a more difficult temperament than the merry, easygoing Siberians. Today, Malamutes are frequently used for drafting. The Alaskan Malamute, like the Siberian Husky, is recognized by the American Kennel Club (AKC) as an official breed.
Samoyeds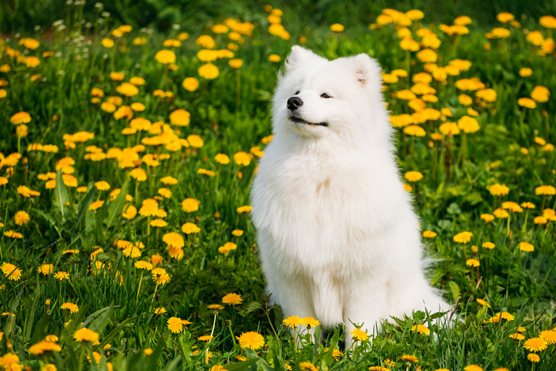 © Grisha Bruev / Shutterstock.com
Another well-known and AKC-recognized breed is the beautiful, startlingly all-white Samoyed. (Siberian Huskies can also be all white, but in the Samoyed it's a required breed characteristic.) The Samoyed is also a Siberian dog, used primarily for hauling sledges. This breed runs a little larger than the Husky and isn't as speedy. You're not likely to see them in the Iditarod.
Like the Husky, Samoyeds seem to be always smiling. Aficionados claim the upturned corners of the mouth keep drool from descending and turning into icicles — I don't know whether this is true or not, but it makes a good story.
"Alaskan Huskies"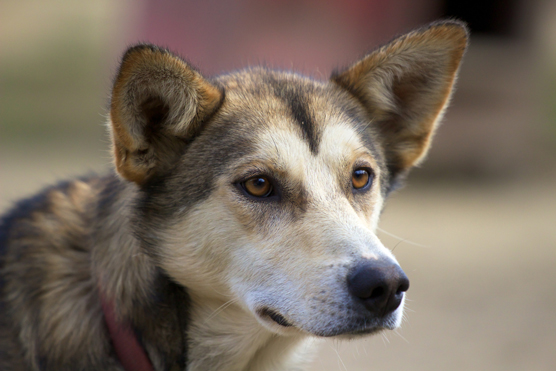 © Jan Miracky photography / Shutterstock.com
Now I'm deep into the weeds (or snowbanks). The Alaskan Husky isn't even a pretense of a breed. It's a mixed breed of various ancestry and disparate looks particularly suited for sledding. There are two main varieties. Most are crossed with Pointers, Setters, Greyhounds, and Salukis (sprinting group) and Siberian Huskies and Malamutes (long-distance group). Anatolian Shepherd dogs, revered for their work ethic, have been tapped for both groups. Admirable as they are, these dogs aren't recognized as a breed by any major kennel club.
"Miniature Huskies"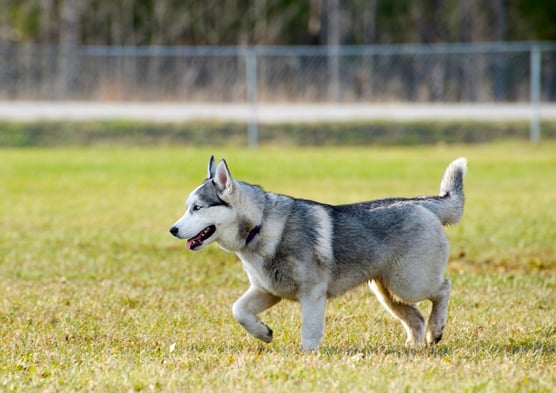 © KellyNelson / Shutterstock.com
This dog first made an appearance in the 1990s. Although some people consider them to be a separate breed from the Siberian Husky, the Siberian Husky Club of America doesn't recognize any such variant, nor is it currently accepted as a breed by the AKC. Britain's Kennel Club considers the miniature Husky as simply a size variation of the standard Siberian.
Miniature Huskies are about half the size of the original, recognized breed. The original breeder, Bree Normandin, was attempting to create a more manageable version of the familiar Husky. Obviously, this breed can't be counted on to pull a sled.
Alaskan Klee Kai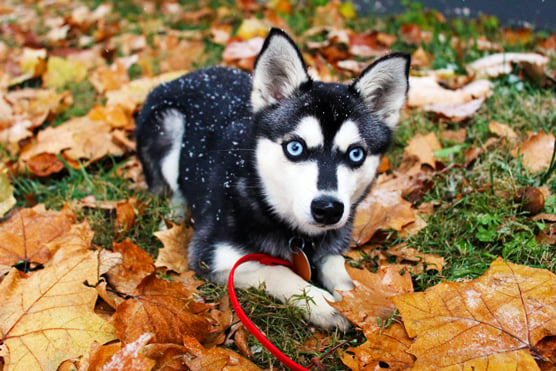 © Momick / Shutterstock.com
Almost indistinguishable from the Miniature Siberian is the tiny version of the Alaskan Malamute or "Alaskan Husky," developed in the late 20th century. Bred in three sizes, it can range from 5 to 22 pounds. It was developed in the 1970s by Linda Spurlin and isn't recognized as a breed by the AKC, although the breed certainly has its fans.
Northern Inuit Dog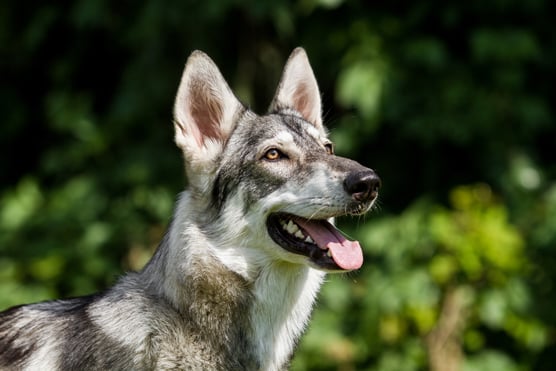 © Aneta Jungerova / Shutterstock.com
Even though the name Northern Inuit Dog sounds authentically old and indigenous, the truth is otherwise. This cross breed was only developed in the 1980s by Eddie Harrison, whose idea was to create a dog that looked just like a wolf (for some reason). In pursuit of this goal, Siberian Huskies, German Shepherd Dogs, Alaskan Malamutes, and sometimes Samoyeds or even wolf-hybrids were used as foundation sires. No reputable breed club anywhere in the world recognizes the Northern Inuit.
Wolves and wolf-hybrids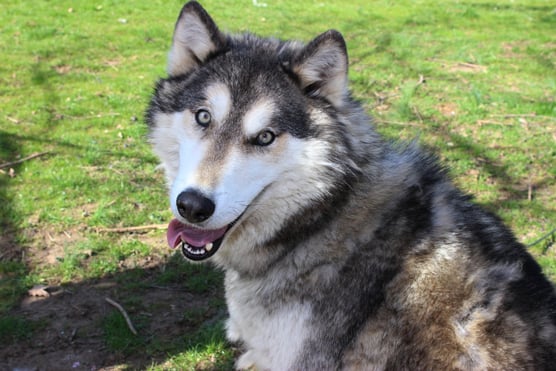 © Joy Baldassarre / Shutterstock.com
Some people find it macho or cool to keep a wolf-hybrid, a wolf crossed with a Siberian, Malamute, Akita, or German Shepherd. But keeping a wolf-hybrid is definitely a bad idea. Wolves, wolf-hybrids, and wolf mixes make dangerous pets.
Think about all the wonderful wolf acts you've seen in circuses. Oh. Right. You haven't seen a wolf act for one simple reason: There are no wolf acts. You can train a lion, a tiger, or even an elephant, but not a wolf. All the "tame" wolves have already decided it's a dog's life for them. The rest are out fending for themselves with no interest in being your pet.
Many wolf mixes are obtained by crossing Huskies with wolves, possibly under the mistaken impression that the resultant puppies will inherit the Siberian's happy disposition. But this is simply wrong. Instead, a wolf/Siberian mix combines the worst features of both species. The crosses behave more like wolves than dogs, combining fear and aggression in an extremely unpleasant way. In many places, owning such an animal is illegal, and even where it isn't, it's just asking for trouble. The same applies to dog-coyote mixes, another unsavory trend.
Wolf-hybrids can't be trusted around human beings. They have a bad track record of killing people, especially children. Wolves in the wild rarely kill human beings, by the way. That's because completely wild animals have a sensible fear of people and stay well away from them. The wolf mix or hybrid has no fear of humans, and he shows it. Still, a few people continue to keep children in homes where a wolf-hybrid is present, with predictable and sometimes fatal results. Some wolves or wolf-hybrids may appear tame, but no wolf or wolf mix is ever truly domesticated. Wolf-hybrids can never learn to read your face the way a dog can, either. If none of this deters you, consider that they can't be house-trained. That fact alone should dampen your enthusiasm.
About This Article
This article is from the book:
This article can be found in the category: