Chalk paint is a fantastic product, but it's expensive and can cost up to $35 for just a quart. However, with just some basic ingredients and a "can do" attitude, you can learn how to make chalk paint for a fraction of the cost. Chalk paint got is name because it covers the piece of furniture with a soft, chalky patina that gives that piece an incredible antique look.

Designed by Annie Sloan, chalk paint is a paint that is easily applied on just about everything. The great thing is that chalk paint requires no prepping or sanding of anything you wish to paint outside or inside. Covering easily and drying quickly, chalk paint provides a beautiful patina, and your distressed item comes out looking wonderful with very little effort.

Chalk Paint is so named because it is applied smoothly, it dries quickly, and it can be easily sanded to make your piece have that great, distressed look.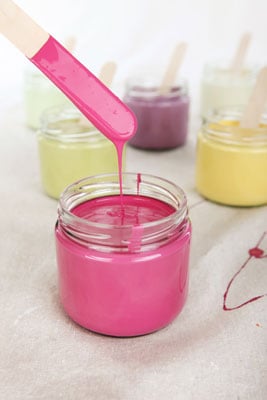 Source: ©iStockphoto.com/GeorgePeters
How to make chalk paint
There are several different ways to make chalk paint. The Do-It-Yourself (DIY) process involves two simple steps that require light mixing, pouring, and stirring of several ingredients. Follow the instructions below to make your own chalk paint:
Mix the Plaster of Paris, baking soda, or unsanded grout and water together enough to remove all the lumps.
Pour the baking soda or unsanded grout mixture into the paint.Stir until all of the mixture is dissolved and there are no lumps.
Make sure paint is as smooth as it was when you started. The paint appears at first no different than the latex paint you started with. When the chalk paint dries on the furniture, you will notice the distressed look.
For a quart of paint, quadruple the amount, but remember that it dries (and dries out) quickly.
Chalk paint recipes
Here are three of the most popular chalk paint recipes: Plaster of Paris, Baking soda, and unsanded grout. There are only three ingredients for each recipe and using the quantities specified below will allow you to make just over a cup of paint each.
Plaster of Paris chalk paint recipe
1 cup latex paint
1-1/2 tablespoons water
2-1/2 tablespoons Plaster of Paris
Baking soda chalk paint recipe
1 cup latex paint
3 tablespoons cool water
1/2 cup baking soda
Unsanded grout chalk paint recipe
1 cup latex paint
1 tablespoon cool water
2 tablespoons unsanded grout
About This Article
This article can be found in the category: