You don't have to panic when a steaming cup of coffee, sloshed water, or some other liquid leaves a mark on your wood furniture. Most of the time, getting the piece back to its original condition is fairly easy. The first thing you have to do is determine how deep the damage is. You can tell that by the color of the stain or water mark.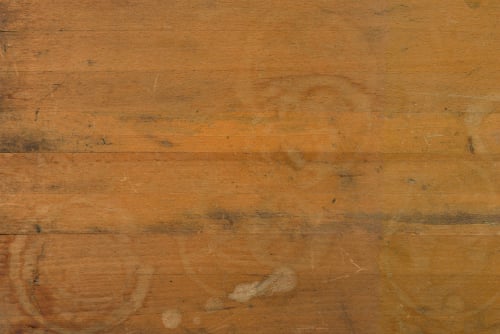 Credit: ©iStockphoto.com/dalton00

Stains and marks made by liquid or steam are usually white or light-colored. That means that they haven't penetrated much more deeply than through the waxed or polished surface. When the stain is dark, however, it indicates that the liquid has penetrated through the finish on the wood and possibly through to the wood itself. If this is the case, you have more of a fix on your hands.

Here are some ways to treat light-colored stains. Start with the first, and if it doesn't work, then try the next step:
Rub the area with an oily furniture polish, mayonnaise, or petroleum jelly.

The goal is to displace the water mark with the oil. If the stain disappears, good; skip to Step 6. If the stain is still there, try Step 2.

Put a little toothpaste on a wet cloth and rub the stain gently until the spot disappears.

Toothpaste sometimes contains a mild abrasive that will help get rid of the stain. If toothpaste does the job, skip to Step 6.

If the stain is still there, mix equal amounts of baking soda and toothpaste together to make a slightly stronger, yet still mild, abrasive and rub that mixture on the stain.

Depending on the size of the stain, 1/4 or 1/2 teaspoon of each should do the trick. Apply a little more pressure than you did in Step 2. If the stain is gone, go to Step 6; otherwise, proceed with Steps 4 and 5 for stubborn water marks.

Thoroughly clean the area.

Dip a soft cloth — an old T-shirt will do — into a mild solvent such as mineral spirits or paint thinner (odorless). Squeeze excess moisture from the cloth, and then rub gently until the stain is gone.

To make sure you won't harm the surface, pretest the solvent on a finished underside of the furniture first. If the solvent doesn't dissolve your finish, then it's safe to work on the stain itself. If it does dissolve, don't use it.

After the water mark is gone, wax your table, chest, or chair.

Use a thin layer of paste wax and a clean, soft cloth. Although paste wax takes a little more work to apply, it leaves a nicer, longer-lasting finish than a liquid or cream wax.

After the paste wax thoroughly dries — give it half an hour — buff the piece with another soft, clean cloth until you have a rich, smooth patina.

You'll love how it looks.
About This Article
This article is from the book:
This article can be found in the category: