For heating water with the sun, a wide range of solar collector constructions are available. Some systems are nothing more than solar collectors. For example, when covering your swimming pool with a solar blanket, you simply float it directly over the water. When you want to swim, you remove the blanket.
The efficiency of a collector is a measure of how well it converts radiation into usable heat. Running higher quantities of fluids through a collector (or running the fluids faster) doesn't result in any more heat collection because that's determined by the available radiation. However, running more fluids through usually keeps the collector cooler, which means less ambient heat loss and therefore better efficiency.
The lifetime of a collector is important in your decision-making. Some don't last more than a couple of years with full exposure to the sun. Others are guaranteed for more than ten years.
Integral collector storage collectors for pools
Direct, integral collector storage (ICS) collectors, such as swimming pool collectors and the batch collectors, commonly are filled with the water that's being heated. The simplest and cheapest collector on the market is a flexible, plastic molded grid suitable for swimming pool applications.
ICS collectors are available in most swimming pool supply stores. Expect to spend around $230 for 80 square feet for the simplest models. For the kind you mount onto your roof, the added integrity (lifetime) and performance costs more.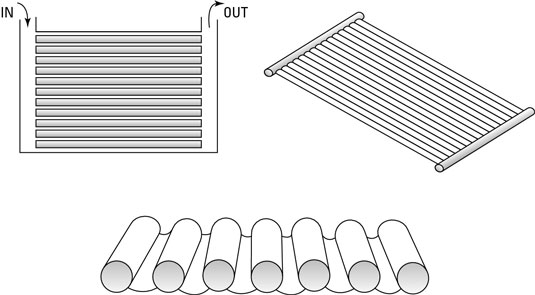 Plastic channels in a swimming pool collector are inefficeint in wind and rain.
Batch collectors
Batch collectors, another type of ICS collector, can be very simple: Just put a tank of water in the sun and let it heat up. If you paint the tank black, it absorbs more heat. If you use some reflective material such as aluminum foil to focus even more sunlight onto the tank, it works even better. If you seal it in an enclosed container with a glazed window, you get the best results.
Batch collectors work well without pumps and control systems, so they're good candidates in remote locations. Batch collectors can weigh a lot, more than 1,000 pounds when they're full of water, so you need to make sure that the mounting location can handle this kind of weight.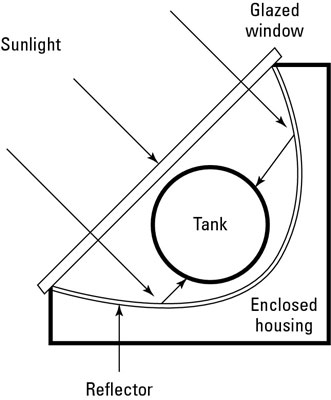 You can make a batch collector out of a 55-gallon drum painted black, and in some parts of the world, this is standard operating procedure.
Flat-plate solar collectors
A flat-plate solar collector consists of a rectangular box 2ft. or 4ft. wide by 4ft. to 12ft. long and 8 inches thick. A copper or aluminum absorber plate at the bottom of the box is finished black to absorb the maximum amount of sunlight. Rows of fluid circulation tubes are in direct contact with the absorber plate; as sunlight warms the plate, heat transfers to the circulation tubes and into the fluid. The absorber plate is insulated from the housing, and a glass or plastic cover seals the unit and allows maximum sunlight in with minimum heat loss. Quality units feature a glazed window made of low-iron silicon glass.

Flat-plate solar collectors are the most widely used type of collector.
They heat water very efficiently, and they have no moving parts or maintenance requirements, aside from keeping the window clean of debris. They work well in wind and rain, shed snow well, and can endure brief freezing conditions. Here are a few safety and maintenance issues to consider:
A flat-plate solar collector may weigh quite a bit. Mounting usually means getting plenty of help.

Always purchase the mounting hardware with the collector to eliminate the possibility of dissimilar metals and galvanic reactions.
Evacuated tube collectors
Evacuated tube solar collectors involve a row of glass envelopes (tubes) emptied of air, which creates a vacuum and makes for excellent insulation. Copper rods inside the tubes are connected to a massive copper tube inside the enclosed header, through which water flows. The copper rods get very hot on a sunny day, and the heat moves directly into the copper mass in the header, and from there into the fluid. When reflectors are located behind or around the tubes, these collectors are even more effective.
These collectors are impervious to freezing conditions and work very well, even when the air temperatures go below zero. They are more expensive, however.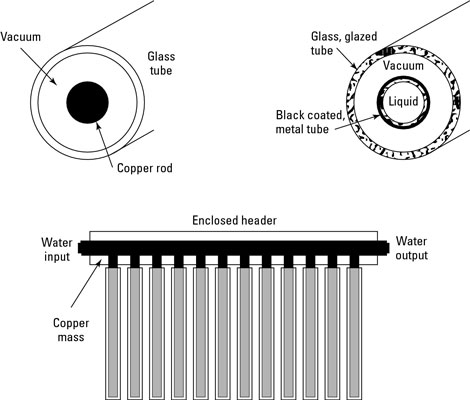 Evacuated tube collectors work well in windy and wet conditions.
These collectors perform better than other types of collectors on cloudy days, and on sunny days, they work for more of the daylight hours because the tubes are always perpendicular to the sun.
Evacuated tube collectors are fragile; if the seal breaks, performance is poor because the vacuum is compromised, and insulation is poor. On the positive side, it's very easy to change a single element if it breaks. With most collectors, breakage means removing and changing the entire collector.
About This Article
This article is from the book:
This article can be found in the category: