Controlling the amount of sunlight that enters your house or patio is an easy way to cut your cooling and heating bills, regulate your home's temperature, and enhance the appearance of your house. Window coverings are a great way to control the amount of light that comes in and to create an insulating or cooling effect in your home.
With a blind inside, you can get the best insulation. However, the heat gets inside because sunshine comes in through the window and strikes the blind. The gap between the blind and the window can get very hot because of the greenhouse effect. This result is desirable in the winter but not the summer, when you may have a cooler room if you just leave the window uncovered and let the sun and air in.
You can get interior blinds made to warm a room in the winter if that's your main goal. They absorb sunlight, and they also provide insulation where you need it. On the other hand, interior blinds for summer reflect a lot of light on the outside (exterior) surface, which may be made of a different material or made a different color than the inside surface. In general, a white blind works best for reflecting sunlight, but you can also find (more expensive) specially coated blinds that reflect the maximum amount of sunlight.
With a solar screen tacked up on the outside of a window, most of the sunlight is filtered before it even gets to the window. The screen gets hot, and you end up with an insulation barrier to keep that heat trapped, but it's all outside the window, which makes for a cooler interior. This is good for summertime, but counterproductive for winter.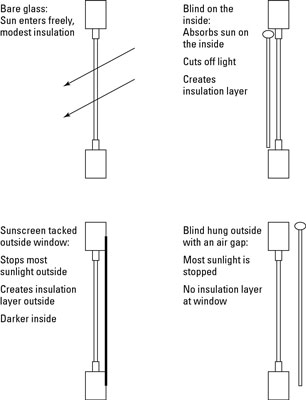 Different ways to cover a window.
The following table covers the various window coverings available:
Window Covering Options

| Type of Covering | Sun | Insulation |
| --- | --- | --- |
| Bare glass | Sun enters freely | Minimal insulation |
| Blind on the inside | Absorbs sun on the inside; controls lighting and enhances decorative qualities in the room; may also completely block view | Creates excellent insulation layer inside — good for cold climates or winter |
| Sunscreen tacked outside window | Stops most sunlight outside; darker inside but with partially obscured views | Creates insulation layer outside; heat is stopped outside so that the interior of the room is cooler; best for hot climates |
| Blind hung outside with an air gap | Stops most sunlight outside, partially obscured views | No insulation layer at window; maximum cooling effect, especially in breezy locations |
The best cooling effect is to allow for some ventilation between an outside blind and the opened window that it's covering. But that setup isn't always easy or practical.
When your air conditioner is on, you want to create as much insulation as possible. You can do so by closing your blinds all the way. If you have outside covers, lower them into place. The best scheme for a sunny house that uses a lot of air conditioning is both solar screens and interior blinds. The house is relatively dark inside, but it's also cooler. (You can also use window overhangs.)
About This Article
This article is from the book:
This article can be found in the category: