You can build a very effective solar space heater for around $400 in parts. Over the course of a sunny day, this system can heat a room at zero cost. There are no pumps, fans, or moving parts. The size shown can heat a small office in the dead of winter (as long as the sun is shining), or you can build smaller units to distribute around your house. They work well in outbuildings (barns, work rooms, and so on) with no power available.
The solar collector absorbs sunlight and converts it into heat, which becomes trapped in the collector via the greenhouse effect. The air around the absorber heats, expands, and rises, creating a natural convection current via the chimney effect. Vents at the top and bottom of the collector allow air-looping movement between the collector and your house. Cool air is drawn into the bottom, heated in the collector, and then feeds back into the house through the top vents. In the summer, you need to block off the vents to prevent operation. On a cold night, close the vents to prevent the reverse process from occurring.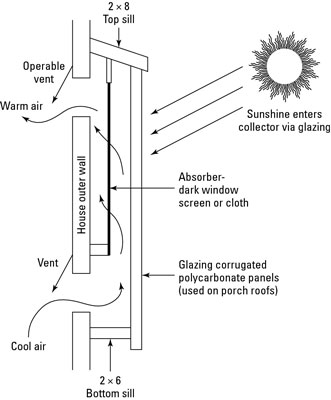 Build this solar space heater that uses the chimney and greenhouse effects to produce heat.
The best location is a south-facing wall, but east or west can also be useful, depending on what time of day you want the heat.
Here's a parts list for a 160-square-foot collector that you can build for a total of $417:
68 ft. of 2-x-6-inch lumber for the verticals and bottom sill ($45)

22 ft. of 2-x-8-inch lumber for the bottom sill ($20)

130 ft. of 1-x-1-inch lumber for the glazing and supports ($20)

Ten 8-x-26-inch corrugated polycarbonate panels (used on porch roofs) for the glazing ($180)

40 ft. of foam closure molding ($12)

300 square ft. of black metal screen for the absorber ($70)

Miscellaneous hardware, including sealant, fasteners, and paint ($30)

Vents ($40)
About This Article
This article is from the book:
This article can be found in the category: