Caramel corn makes a great treat for Halloween parties. This tasty treat includes three types of nuts and it's bound to please your little goblins and ghosts and anyone else who likes the rich flavor and crunch of caramel corn.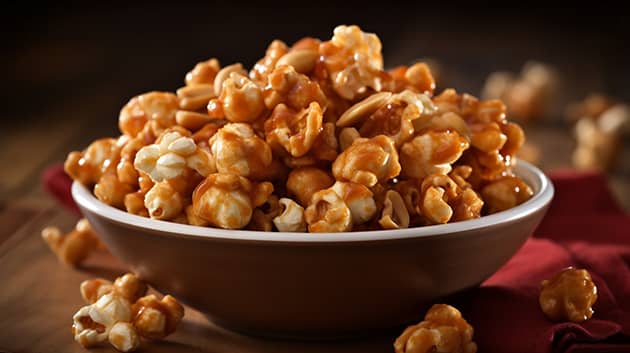 ©Wagner / Adobe Stock
Nutty Caramel Corn
Preparation time: 20 to 30 minutes plus 20 to 30 minutes for cooling

Yield: 8 servings

Ingredients:
10 cups popped popcorn
1-1/2 cups granulated sugar
1/2 dark brown sugar, packed
1/2 cup corn syrup
1/2 cup water
2 tablespoons butter
1 cup raw whole almonds
1/2 cup whole raw cashews
3/4 raw pecan halves
2 teaspoons salt
2 teaspoons baking soda
Instructions:
Rinse a large stainless steel bowl with hot water and dry well (this heats the bowl). Put the popped corn in the bowl.

Combine the granulated sugar, brown sugar, corn syrup, and water in a heavy 6-quart saucepan and cook on medium heat, stirring occasionally until it comes to a boil. Place a lid on the pot for 1 minute to allow the sugar crystals to wash down the inside of the pot. Remove the lid and clip a candy thermometer to the side of the pot without allowing the tip to touch the bottom of the pan. Continue cooking and stirring

When the temperature reaches 240 degrees, add the butter and almonds and continue stirring. At 270 degrees, add the cashews and continue stirring. At 285 degrees, add the pecans and cook to 300 degrees. Remove the mixture from the heat.

Stir in the salt and baking soda; then pour the mixture over the popcorn in a stainless steel bowl and mix thoroughly with two had rubber spatulas to coat completely. Spread the popcorn mixture over aluminum foil and break clumps apart with your hands while wearing leather utility gloves.
Per serving
:
Calories 473 (From Fat 149); Fat 17g (Saturate 3 g); cholesterol 8mg; Sodium 934 mg; Carbohydrate 80g (Dietary Fiber 4g); Protein 7g.
About This Article
This article can be found in the category: