These classic German cookies are fun to make and a real crowd pleaser. They look like the popular salty snacks, especially when decorated with coarse sugar to mimic the look of salt, but taste deliciously different.
Preparation time: 1 hour and 20 minutes; includes chilling
Baking time: 11 minutes
Yield: 2 dozen
2 ounces bittersweet or semisweet chocolate, finely chopped
2-1/2 cups all-purpose flour
1/3 cup unsweetened Dutch-processed cocoa powder
2 teaspoons instant espresso powder
1/4 teaspoon salt
3/4 cup plus 2 tablespoons (1-3/4 sticks) unsalted butter, softened
3/4 cup superfine sugar
1 large egg
2 teaspoons vanilla extract
Garnish
1 egg white mixed with 2 teaspoons water
1/4 cup crystal sugar
Melt the chocolate in a double boiler over hot water. Stir often with a rubber spatula to ensure even melting. In a separate bowl, mix together the flour, cocoa powder, espresso powder, and salt.

Using a mixer and large bowl, beat the butter until fluffy, about 2 minutes. Add the sugar and mix together until smooth. Add the melted chocolate and blend well.

In a small bowl, combine the egg with the vanilla and add to the butter mixture, blending well. Add the dry ingredients from Step 1 in three stages, blending well after each addition.

Shape the dough into a log about 2 inches wide. Wrap tightly in plastic and chill for at least 1 hour, until firm.

Preheat the oven to 350 degrees. Line a cookie sheet with parchment paper. Cut the log into 24 equal pieces, each about 1/2 inch thick.

Work one piece of dough at a time, while keeping the other pieces in the refrigerator. Roll each piece into a ball and then into a rope about 12 inches long and the same thickness as a pencil. Twist the ends up and over, crossing each other, and secure them at the base, forming a pretzel shape.

Brush the top of each cookie with the egg white mixture and sprinkle with crystal sugar. Use a flat metal spatula to transfer the cookies to the cookie sheet, leaving 2 inches between them. Bake for 11 to 12 minutes, until firm.

Remove the cookie sheet from the oven and transfer the cookies from the parchment to cooling racks. Keep in an airtight container at room temperature for up to a week or freeze for longer storage.
Per serving: Calories 160 (From Fat 72); Fat 8g (Saturated 5g); Cholesterol 27mg; Sodium 31mg; Carbohydrate 20g (Dietary Fiber 1g); Protein 2g.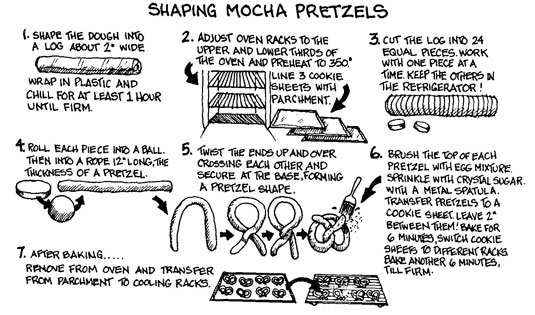 About This Article
This article is from the book:
This article can be found in the category: