This dessert brings together a heavenly combination of grilled fruit and grilled pound cake, and a wonderful brandy sauce. This fruit and pound cake dessert can really wow your dinner guests — and they don't need to know how easy it is to make!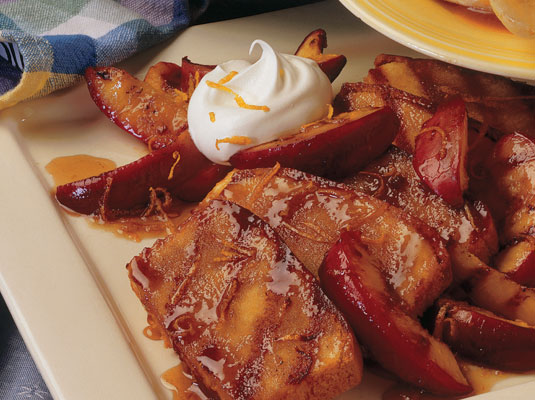 Preparation time: 20 minutes, plus 30 minutes marinating
Grilling time: 12 to 14 minutes
Yield: 4 servings
4 medium nectarines
2 large ripe purple plums
2 tablespoons butter
1/3 cup dark rum or fruit-flavored brandy
3 tablespoons brown sugar, packed
Pinch of salt
1 orange
1 frozen pound cake, thawed
1 pint vanilla ice cream, or 2 cups sweetened whipped cream
Cut each piece of fruit in half and remove the pits.

Discard the pits after removing them.

Slice the nectarines into 1-inch-thick pieces.

Slice the plums into 1/2-inch-thick pieces.

In a medium saucepan, melt the butter over very low heat.

Add the dark rum or the brandy, the nectarines, and the plums.

Sprinkle with the brown sugar and salt; toss to mix well.

Cook, covered, over low heat for 1 minute or just until heated through.

Remove from heat.

Grate the orange's peel

Sprinkle the fruit mixture with 1 teaspoon orange peel.

Set aside for 30 minutes or longer.

You may prepare the fruit to this point and keep it covered until ready to grill.

Slice the thawed pound cake into 8 1/2-inch-thick pieces.

Prepare a medium fire in a charcoal or gas grill.

Be sure that the grill is thoroughly clean and free of any food particles.

Remove the fruit slices from the sauce.

Reserve the sauce.

Grill the fruit slices on a lightly oiled grid.

After the fruit has cooked for 5 minutes, brush the pound cake slices with the reserved sauce, then turn the slices over and brush the other side.

Reserve the remaining sauce.

Turn over the fruit slices.

Grill for 4 minutes or until the cake is lightly toasted on both sides.

Transfer the grilled pound cake slices to individual serving plates, two to a plate.

Top the cake with grilled fruit slices and a scoop of vanilla ice cream or whipped cream.

Drizzle any remaining brandy sauce over the fruit, cake, and ice cream.
About This Article
This article can be found in the category: