You can cook virtually anything in a pressure cooker — from meats and main courses to rice, potatoes, and vegetables of every description, to dessert. Better yet, pressure cooking allows you to prepare foods up to 70 percent faster, on average, than conventional cooking methods do, which means you save energy in addition to your precious time.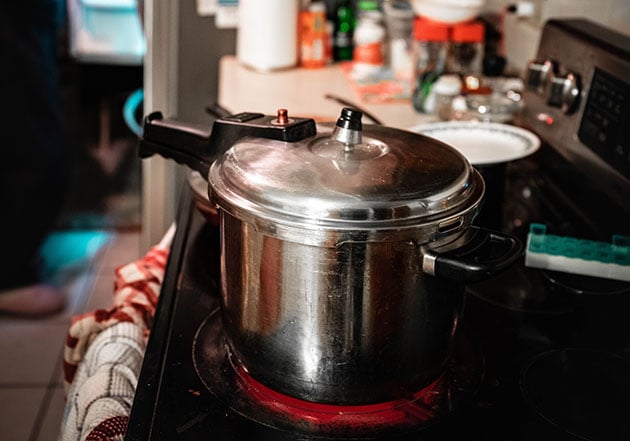 © Nickolas Nikolic / Unsplash.com
Tips for successful pressure cooking
Pressure cookers can save you time and money, helping you prepare delicious meals that retain nutritional values often lost in other cooking methods. Pressure cooking does require some adjustments, however. Follow these tips for the best pressure-cooking results:
Brown meats, poultry, and even some vegetables — like chopped onions, peppers, or carrots — first and then deglaze the pot for more intense flavor. In a stove-top pressure cooker, simply add a small amount of oil, such as olive or canola oil, to the pressure cooker and heat, uncovered, over medium-high heat. Add the food in small batches and brown the food on all sides. Remove the food to a bowl and set aside. You're now going to loosen up and remove those delicious, cooked-on juices and tiny food particles left behind by deglazing the pot with a small amount of wine, broth, or even water. Return the cooked food previously removed from the pot along with the remaining ingredients and cook under pressure. For an electric cooker, follow the same steps just described, selecting the Brown setting.

Don't overdo the liquid. Because food cooks in a closed, sealed pot when cooking under pressure, you have less evaporation and should therefore use less cooking liquid than when cooking in a conventional pot. Regardless of what you're cooking, however, always use enough liquid. A good rule of thumb is at least 1 cup of liquid; however, check the owner's manual or recipe booklet to see exactly what the pressure-cooker manufacturer recommends. Never fill the pot more than halfway with liquid.

Don't fill any pressure cooker with too much food. Never fill a pressure cooker more than two-thirds full with food. Also, never pack food tightly into a pressure cooker. If you don't follow these basic rules for cooking under pressure, the pressure cooker won't operate efficiently, affecting how the food comes out. You may also cause the safety valves to activate, especially if there's too much food in the pot.

Remember that even pieces mean evenly cooked food. Food should be cut into uniform-sized pieces so that they cook in the same amount of time.

Use stop-and-go cooking for perfect results. When making a recipe that contains ingredients that cook at different times, begin by partially cooking slow-to-cook foods, such as meat, first. Then use a quick-release method to stop the pressure cooker. Next, add the faster-cooking ingredients — such as green beans or peas — to the meat. Bring the pot back up to pressure again and finish everything up together at the same time.

Start off high and finish up low. When cooking in a stove-top pressure cooker, start cooking over high heat. After you reach pressure, lower the burner to a simmer. No need to worry about adjusting the heat when cooking in an electric pressure cooker. The appliance does it for you automatically.

Play burner hopscotch to avoid burning when cooking in a stovetop pressure cooker. When you reach pressure over high heat, you lower the burner to a simmer. Gas burners react quickly, but most electric burners don't. If you have an electric stove, use two burners: one on high heat to reach pressure and a second set on a low setting to maintain pressure. Switch the pressure cooker over to the burner with the low setting when you reach pressure.

Set a timer. Have a kitchen timer handy so that after the pressure cooker reaches and maintains pressure, you can set it for the cooking time specified in the recipe. Note that electric pressure cookers have their own digital timers built in.

Use an electric pressure cooker if you want to do pressure cooking the super-easy way. Choose the desired pressure level by pressing either the high or low pressure button on the control panel. Then, set the desired time you want to cook under pressure by pressing the high or low button for increasing or decreasing cook time. Now, press Start. The pressure cooker starts the countdown time when the level of pressure you chose is reached. It then beeps when done, telling you your food is ready.

Bear in mind that high altitude means longer cooking times. You may have to increase the cooking times if you live at an elevation of 3,000 feet above sea level or higher. A good general rule is to increase the cooking time by 5 percent for every 1,000 feet you are above the first 2,000 feet above sea level.

Release that pressure. When the food is done cooking under pressure, use an appropriate pressure-release method, according to the recipe you're making.

Be sure never to attempt a cold-water release with your electric pressure cooker — unless you want to shorten its lifespan or your own! Never submerge the appliance in water and always be sure to unplug it before cleaning.
Temperature-pressure ratios for pressure cooking
Pressure cooking is just what the name says — cooking foods under pressure. You cook foods at a lower temperature, but under much higher pressure than in conventional cooking. The following table translates the pressure setting on your pressure cooker to temperatures and pressure levels:
| Pressure Setting | Cooking Temperature | Pressure Level in Pounds per Square Inch (psi) |
| --- | --- | --- |
| High pressure | 250 degrees | 13–15 psi |
| Medium pressure | 235 degrees | 10 psi |
| Low pressure | 220 degrees | 3 psi |
Suggested pressure-cooker cooking times
The suggested cooking times in the following list begin when the pressure cooker reaches high pressure. Always bring the pressure cooker up to high pressure over high heat, then lower the heat to stabilize the pressure depending on the type of stove-top pressure cooker you're using. Your electric pressure cooker will automatically do this for you.
Always start with the shortest cooking time; you can always continue cooking under pressure for an additional couple of minutes until the desired texture is reached.
| Food | Cooking Time (in Minutes) |
| --- | --- |
| Apples, chunks | 2 |
| Artichokes, whole | 8 to 10 |
| Asparagus, whole | 1 to 2 |
| Barley, pearl | 15 to 20 |
| Beans, fresh green or wax, whole or pieces | 2 to 3 |
| Beans, lima, shelled | 2 to 3 |
| Beets, ¼-inch slices | 3 to 4 |
| Beets, whole, peeled | 12 to 14 |
| Broccoli, florets or spears | 2 to 3 |
| Brussels sprouts, whole | 3 to 4 |
| Cabbage, red or green, quartered | 3 to 4 |
| Carrots, ¼-inch slices | 1 to 2 |
| Cauliflower, florets | 2 to 3 |
| Chicken, pieces | 10 to 12 |
| Chicken, whole | 15 to 20 |
| Corn on the cob | 3 to 4 |
| Meat (beef, pork, or lamb), roast | 40 to 60 |
| Meat (beef, pork, or lamb),1-inch cubes | 15 to 20 |
| Peas, shelled | 1 to 1½ |
| Potatoes, pieces or sliced | 5 to 7 |
| Potatoes, whole, medium | 10 to 12 |
| Potatoes, whole, small or new | 5 to 7 |
| Quinoa | 7 |
| Rice, brown | 15 to 20 |
| Rice, white | 5 to 7 |
| Spinach, fresh, | 2 to 3 |
| Squash, fall, 1-inch chunks | 4 to 6 |
| Squash, summer, sliced | 1 to 2 |
| Stock | 30 |
| Sweet potatoes, 1½-inch chunks | 4 to 5 |
| Turnips, sliced | 2 to 3 |
Tips for pressure cooking meat and poultry
Because many cuts of meat generally take so long to cook using conventional cooking methods, you'll be surprised and pleased how quickly they cook up in the pressure cooker. Follow these tips, and your pressure-cooked meats and poultry will turn out tasty every time:
Always pat meat and poultry dry before seasoning with salt and freshly ground black pepper.

Sear and brown in hot oil for the best flavor and texture, unless otherwise indicated in the recipe.

Poultry can be prepared with or without the skin.

Tougher, less-expensive cuts of meat are better suited for the pressure cooker because cooking under pressure breaks the fibers down for fork-tender results.

Always let cooked roasts and whole poultry sit for 10 to 15 minutes before carving.

Most roasts should be sliced against the grain.
About This Article
This article is from the book:
This article can be found in the category: