Leafy green kale is a perfect Paleo diet food, full of fiber and anti-oxidants. And eating Paleo- (or cave man) style doesn't necessarily mean raw veggies. Here, sesame oil and fresh ginger add an Asian flair to steamed kale; but you can make it Italian by substituting olive oil and crushed garlic. If you don't have kale, try collards, beet tops, and spinach — it's all good.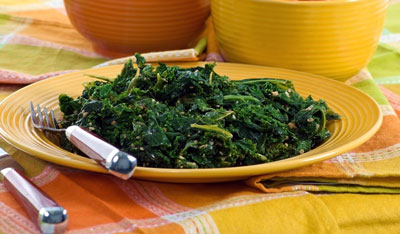 Credit: ©iStockphoto.com/Socanski 2011
Paleo-Perfect Sesame Kale
Time: 15 minutes of prep, and 12 minutes of cooking time
Yield: 4 servings
1 tablespoon sesame seeds
1 bunch fresh kale
1/3 cup water
1 tablespoon toasted sesame oil
1/2 teaspoon freshly ground ginger
Dash cayenne pepper
Salt and ground black pepper to taste
Toast the sesame seeds.

Heat a large sauté pan or wok over medium-high heat. When the pan is hot, add the sesame seeds and stir constantly until they're lightly toasted, about 3 to 5 minutes. Remove from pan and reserve for later.

Wash, trim, and chop the kale.

Wash the kale and remove any tough and/or thick ribs, and then roughly chop or tear the leaves.

Steam the kale.

Place the water in the skillet and bring to a boil over high heat. Add half the kale to the boiling water and stir with a wooden spoon until it begins to wilt, and then add the rest of the leaves. Cover and allow the kale to steam until tender, about 5 to 6 minutes.

Add seasonings.

Remove the lid and allow any remaining water to evaporate. Turn off the heat and drizzle the kale with the sesame oil, tossing to coat. Sprinkle with ginger, cayenne pepper, salt, and black pepper; toss again. Sprinkle with sesame seeds just before serving.
Per serving: Calories 76 (From Fat 44); Fat 5g (Saturated 1g); Cholesterol 0mg; Sodium 174mg; Carbohydrate 8g; Dietary Fiber 3g; Protein 3g.
About This Article
This article is from the book:
This article can be found in the category: