To make these low-glycemic blueberry oatmeal muffins, you just add oats to a traditional recipe. The result is a wonderful, tasty muffin that's perfect as part of your low-glycemic breakfast or as a healthy snack. The oats, oat flour, and blueberries provide fiber, vitamins, minerals, and antioxidants that help reduce your risk of heart disease, diabetes, stroke, and cancer.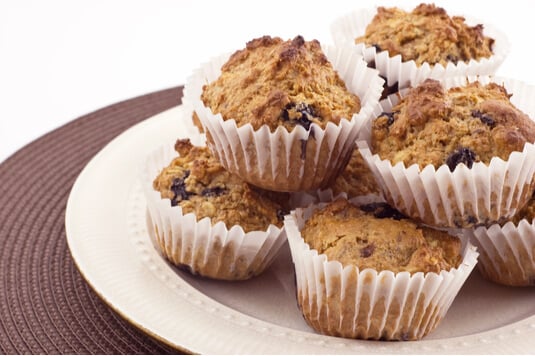 © Shutterstock/photogal
Low-Glycemic Blueberry Oatmeal Muffins
Preparation time: 10 minutes

Cooking time: 15–17 minutes

Yield: 12 servings

Nonstick cooking spray

1 cup oat-bran flour

1/2 cup all-purpose flour

1/2 cup quick oats

2 teaspoons baking powder

1/4 teaspoon salt

1/2 teaspoon ground cinnamon

1/2 cup granulated sugar

1 cup frozen blueberries, unsweetened

1 cup lowfat milk

1 egg plus 1 egg white, lightly beaten

1 teaspoon vanilla

2 tablespoons canola oil
Preheat the oven to 400 degrees F, and spray a 12-cup muffin pan with nonstick cooking spray (or you can use paper muffin liners).

In a large bowl, combine the oat-bran flour, all-purpose flour, quick oats, baking powder, salt, cinnamon, and sugar, and mix with a spoon. Add the frozen blueberries, and mix well.

In a medium bowl, combine the milk, eggs, vanilla, and oil, and blend well with a spoon.

Add the milk mixture to the flour mixture, and stir until the dry ingredients are moist.

Fill the cups of the muffin pan 3/4 full, and bake for 15 to 17 minutes, or until a toothpick inserted into the center of a muffin comes out clean.
Per serving:
Calories 156 (From Fat 40); Glycemic Load 15 (Medium); Fat 5g (Saturated 1g); Cholesterol 19mg; Sodium 73mg; Carbohydrate 25g (Dietary Fiber 2g); Protein 4g.
About This Article
This article is from the book:
This article can be found in the category: