To save money and boost your health, you may be doing more home cooking than ever before. You can use simple tips and tricks to cook healthy meals, bake yummy desserts, throw a fabulous party, and save time in the kitchen. With a bit of planning, some expert advice, and fresh ingredients, you'll be cooking delicious meals in no time — even if you consider yourself a kitchen novice.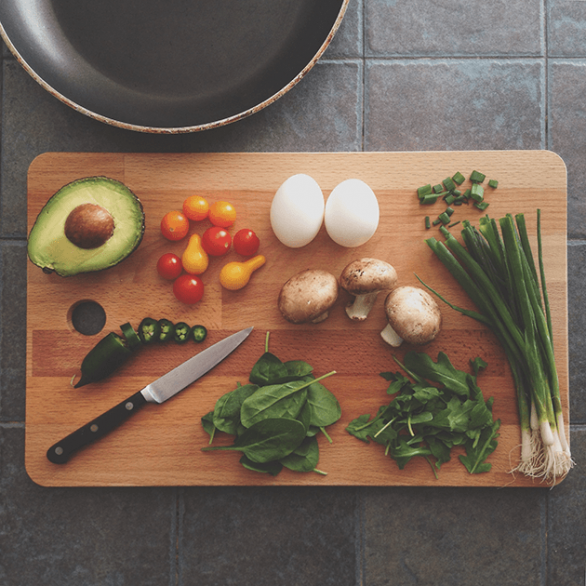 Photo by Katie Smith on Unsplash
Tips for reading recipes before cooking
Preparing, understanding, and completing a recipe require looking ahead and thoroughly reading the recipe before you start cooking or baking. Save yourself from a cooking catastrophe by following these valuable tips on how to read a recipe.
Read through the recipe at least twice to make sure that you understand the directions.

Make sure that you can perform all the techniques.

Look at the recipe yield and decide if the number of servings is what you need. If not, consider whether you should cut the ingredient amounts in half or double them.

Check that you have all the necessary equipment and ingredients.

Make sure that you have enough time before serving to prepare and cook the recipe.

Check whether you can (or need to) make any part of the recipe ahead of time.

Read through the ingredients to see whether you like them all, as well as whether the recipe has too much fat, sugar, or salt for your dietary needs.

Check whether you need to use an ingredient, such as butter or oil, at different stages in the recipe so that you don't make the mistake of using that ingredient all at once.

Find out whether you need to preheat the oven.
How to cut fat, calories, and carbs when cooking
You can create healthier meals without sacrificing flavor just by trying these simple substitutions. Bon appétit!
Substitute lowfat or nonfat dairy products for full-fat dairy products. For example, use 2 percent or skim milk rather than whole milk or cream, lowfat or nonfat cottage cheese and yogurt rather than the full-fat versions made with whole milk, or lowfat or nonfat cheese for regular cheese. These products often give soups and sauces a thinner, less creamy consistency and may influence the texture in other dishes, but the health benefits may be worth it.

Substitute lowfat or nonfat mayonnaise for regular mayonnaise and lowfat or nonfat salad dressing for regular salad dressing. Find brands you like so you don't feel deprived.

Looking for lower-fat meat options? Try ground turkey rather than ground beef, or choose ground beef that is at least 95 percent lean. (Just be aware that hamburgers made from very lean beef will be dryer and less juicy than those made with a higher fat ground beef.) Choose white meat over dark meat poultry, and find cuts of beef with the words loin or round in them.

Choose olive oil and canola oil over butter when sautéing. These ingredients contain monounsaturated fats, a healthier option than saturated fats for heart health.

To cut carbs, use lettuce leaves rather than bread for sandwiches or wraps. Just roll up lean meat and lowfat cheese with a dash of mustard inside a Romaine lettuce leaf.

Decorate your salads with hard-cooked egg whites and walnuts rather than croutons and full-fat cheese.

Avoid processed foods, especially those made with white flour, sugar, and hydrogenated or partially hydrogenated fats, which are found mostly in prepared meals that come from a box or package.
Timesaving cooking tips
Serving up a meal is a snap with these timesaving hints. You'll cook more efficiently and enjoy more time with family and friends at the table!
Have all ingredients prepared, measured, and set out within reach before you start cooking.

Precook pieces of chicken or meat in your microwave before finishing them on the grill.

If you're using the oven, turn it on at least 15 minutes before you're ready to roast or bake your dish. Don't waste time waiting for the oven to heat after you've prepared the recipe.

Buy vegetables that are already washed and cut, if doing so will get you to eat more vegetables or cook more often. Prepared ingredients such as bagged salad mix, stir-fry vegetables already cut to size, and boneless cuts of meat cost a bit more, but saving some time may be worth it.

Remove steaks and other meats from the refrigerator about 15 minutes before cooking so that they warm to room temperature. They'll cook faster and more evenly.

Line the broiler pan with aluminum foil to ease cleanup when broiling hamburgers, fish, steaks, and chops.

Don't bother chopping onion, garlic, fresh herbs, and the like for a salad dressing. Instead, use a food processor or blender to save chopping time, add your liquids, and then blend for a quick dressing.

Place a garlic clove on a cutting board and whack it with the flat side of a heavy knife or a cleaver to make removing the skin easier. The skin should split right off.

Roll a lemon or orange under the palm of your hand on the countertop to make extracting the juice easier.

Clean up as you go. You'll be glad you did when the meal is over!
Staples for your pantry, refrigerator, and freezer
Family hungry and nothing to cook? Make sure that never happens again. If you always keep these staples in your pantry, refrigerator, and freezer, you'll never again be stuck with no option but takeout. You can certainly add to these lists, but these essentials can always help you make a good meal. For items you use regularly (such as bread, eggs, and milk), plan to restock about once a week.
Pantry
Baking powder

Baking soda

Bread

Brown sugar

Canned beans (pinto, white, or black)

Cereal (hot or cold)

Chicken, beef, or vegetable broth

Cider or white vinegar

Cocoa powder

Coffee and/or tea

Condiments: ketchup, mustard, mayonnaise, barbecue sauce, soy sauce, pickles, and pickle relish

Cornstarch

Dried herbs: Basil, bay leaves, oregano, rosemary, tarragon, thyme, and parsley

Flour

Granulated sugar

Ground spices: Black pepper, cayenne pepper (or red pepper flakes), chili powder, cinnamon, cumin, curry powder, ginger, dry mustard, nutmeg, and paprika

Jam, jelly, or preserves

Pancake syrup

Pasta

Peanut butter

Powdered sugar

Rice

Salt

Tomato sauce, paste, and canned tomatoes

Vanilla extract

Vegetable oil
Refrigerator
Butter

Cheese (hard and soft)

Eggs

Fresh fruit

Fresh vegetables, including leafy greens

Meat, fish, poultry, or tofu to last three to five days

Milk

Yogurt and/or sour cream
Freezer
Frozen fruit, for smoothies and sauces

Frozen vegetables you will actually eat

Ice cream or frozen yogurt

Meat, poultry, and/or fish to last about a week
About This Article
This article is from the book:
This article can be found in the category: