Fresh corn on the cob is around for a few weeks each summer, and then it disappears. So when it's available, make the most of this delicious vegetable. It's not so hard to cook the perfect ear of corn if you follow a few simple tips:
Buy corn still in its husk, if possible, rather than the plastic-wrapped, fully shucked kind you often see in the store. It will taste fresher.

Do not shuck the corn until close to cooking time. The silk and husk help keep the kernels moist. If you have to store corn, put it in a plastic bag and refrigerate.

Don't overcook your corn. About 5 to 6 minutes, just until the corn is heated through, is plenty for young, tender ears. Older ears may take up to 10 minutes.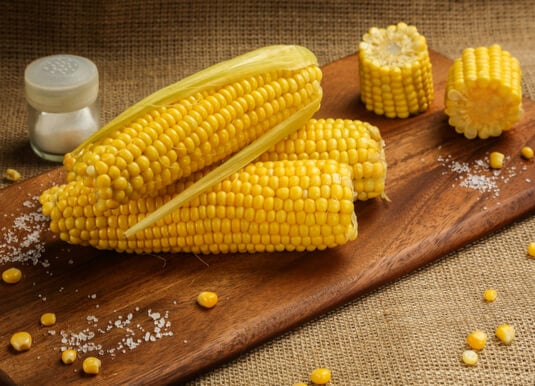 © Shutterstock/Michael Stein
This recipe calls for one ear of corn per person, but if you have more guests or you think your guests may eat more than one ear each, just add more to the pot. The cooking time remains the same.
Perfect Corn on the Cob
Prep
aration
time:
5 minutes
Cooking time: 5 to 6 minutes
Yield: 8 servings
8 ears fresh sweet corn
Salt and pepper
1/2 cup (1 stick) butter
Bring a large pot of water to a boil. While waiting for the water to boil, husk the corn.

When the water boils, carefully drop the ears, one at a time, into the pot. Cover and boil for 5 to 6 minutes.

Using tongs, remove the ears from the water and set them on a plate to drain. Serve immediately with salt, pepper, and 1 tablespoon of butter per ear.
Per serving:
Calories 178 (From Fat 112); Fat 12g (Saturated 7g); Cholesterol 31mg; Sodium 88mg; Carbohydrate 17g (Dietary Fiber 2g); Protein 3g.
Vary It! Flavor the butter with assorted spices and herbs. For example, you can soften the butter to room temperature and mix in a little lemon or lime juice, chopped cilantro or chervil, or chopped fresh basil.
About This Article
This article is from the book:
This article can be found in the category: