One thing is clear about Central American coffee: The range of coffee flavors from these countries is astonishing, from intense sweetness and bright acidity to juicy fruitiness and chocolatey richness. Here is a closer look at these coffee juggernauts.
Costa Rica
Coffee has been grown in Costa Rica since 1779. With a significant amount of ideal volcanic, mountainous terrain, and a superb climate for coffee production, coffee flourished, and it took only 50 years for coffee exports to eclipse exports of cacao, tobacco, and sugar.

The best known regional names to watch for include the following:
The West Central Valley, where Naranjo is often highlighted
The Los Santos region, where Terrazu coffees are grown
The East Central Valley, Tres Rios region, where two distinct seasons and the Irazu volcanic soil nurture noteworthy coffees
All three regions have established reputations for consistent, high-quality coffees featuring superb acidity, body, and flavor.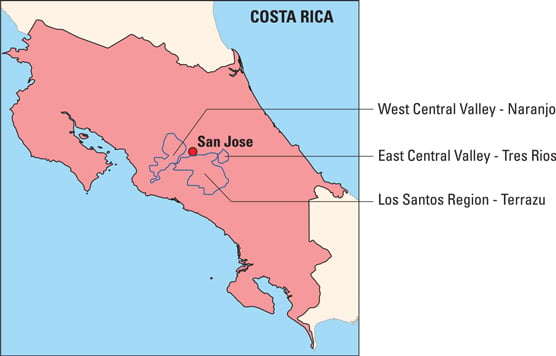 © John Wiley & Sons, Inc.
Coffee-growing regions in Costa Rica.
Coffee's history in Costa Rica spans 200 years. The country is a leader in environmentally sustainable coffee production. An increasing number of small wet mills do end-to-end production, from growing, picking, processing, and drying to bagging. That, along with mandated government oversight of water usage and water waste, has given Costa Rica the edge over many of the world's coffee producers seeking sustainability.
Costa Rican coffees are often called sweet, clean, and sometimes a bit nutty.
El Salvador
Coffee production in El Salvador began in the 1850s. As the government supported the growth of the industry, El Salvador was the world's fourth-largest producer by 1880 with three predominant growing regions: Apaneca-Ilamatepec to the west, Altotepec in central, and Tecapa-Chinameca to the east.

Unfortunately, the 1980 civil war rocked roughly 100 years of stability in production and devastated the country's coffee-growing business. This strife also impacted technological development, keeping El Salvador producers from planting high-yield varieties as opposed to heirloom varieties.

Today, coffee drinkers are the beneficiaries because El Salvador producers are delivering heirloom coffees that are incredibly complex, super sweet, and quite tasty. The Apaneca-Ilamatepec region continues to be a steady coffee-producing region.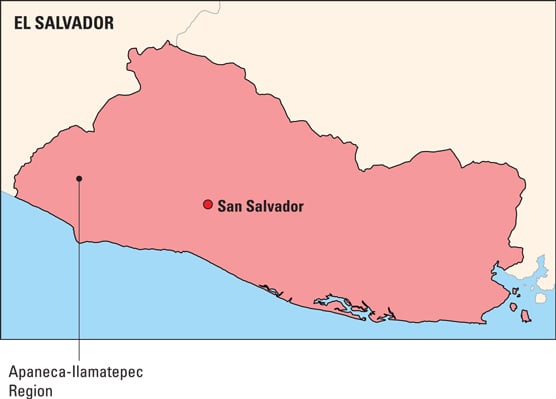 © John Wiley & Sons, Inc.
The Apaneca-Ilamatepec region in El Salvador.
Washed processing is the most common method in El Salvador, although, as is true for its coffee-producing neighbors, many producers are experimenting.
Carlos and Julie Batres are renowned, fifth-generation stewards of Montecarlos, a prized coffee estate in Apaneca. The beautiful farm is situated on a volcano that provides rich soil and dynamic topography for growing world-class coffees. Montecarlos was the first estate in the world to develop and plant the Pacamara coffee variety.
Guatemala
An amazing diversity of climate and culture makes Guatemala unique among its neighboring countries. Coffee production can be traced to the 1750s but didn't really begin to gain importance as a cash crop until the mid-1800s.

Periodic government instability and internal turmoil impacted production throughout the 1900s. Despite those issues, Guatemala rose into the top 10 of coffee producers in the world and remains there today.

Mountainous volcanic terrain across the southern third of Guatemala hosts several well-known regions including:
Acatenango
Antigua, the best known
Atitlan
Cobán
Huehuetenango
San Marcos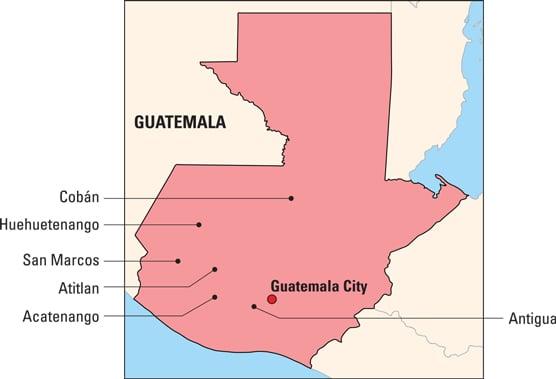 © John Wiley & Sons, Inc.
Coffee-growing regions in Guatemala.
Harvesting begins in December and can last until March. Washed processing is the most common method.
Coffees from Guatemala are known for their diversity of taste profiles. They're often described broadly as elegant and more specifically as chocolatey, nutty, sweet, cocoa-like as well as bright, rich, creamy, and complex. Guatemalan coffees exhibit a balance of acidity and body, which make them a favorite choice of many.
Honduras
The recent success of Honduran coffee producers has been striking because it got a late start. It began significant production in the late 1800s, much later than its neighboring Central American countries.

Today Honduras is among the leading Central American coffee-producing countries. More and more growers and processors are recognizing the value of bringing better coffee to market.

Notable growing regions across the mountainous central and southern part of the country are
Agalta
Comayagua
Copán
Montecillos
Opalca
El Paraíso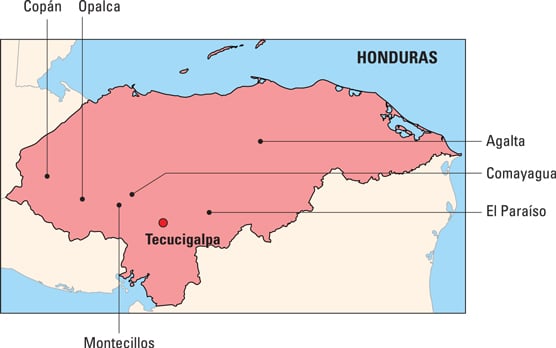 © John Wiley & Sons, Inc.
Coffee-growing areas in Honduras.
Honduran coffees have a wide variety of taste characteristics; among the most memorable are varied levels of fruitiness and pronounced acidity. Washed processing and drying incorporating both sun and mechanical dryer are the most common methods.
Mexico
Coffee growing began in Mexico in the late 1700s, but it wasn't until the 1920s and the end of the Mexican Revolution that production began in earnest. Infrastructure development and the establishment of the Mexican Coffee Institute in 1973 set the stage for advancement, but political turmoil stifled real progress.

Small collectives of growers dominate the business in Mexico today. Although the country isn't a large producer, many coffees being exported from Mexico receive high praise for their quality and consistency.

Three Mexican states most known for their coffee output are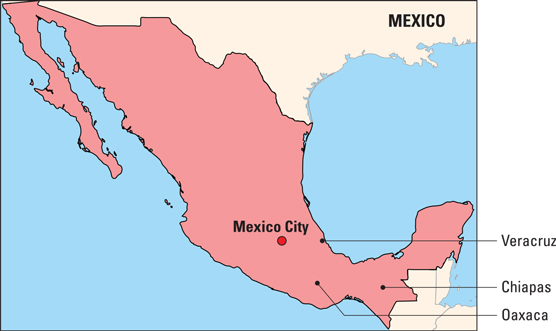 © John Wiley & Sons, Inc.
Coffee-growing regions in Mexico.
Washed coffee processing dominates in Mexico, and the output is known for incredible diversity. Mexican coffees exhibit a wonderfully wide range of taste characteristics from delicate, light-bodied, and sweet to sometimes more earthy and a bit spicy.
Nicaragua
Coffee growing began in Nicaragua in 1790 but didn't become a significant revenue-producing export until the 1840s. In the more than a century since then, Nicaragua coffee production has become crucial to the country's economy; coffee is now Nicaragua's primary export. More than 200,000 jobs and more than 40,000 farmers depend on coffee for their livelihoods.

Like neighboring countries, Nicaragua's industry has been hurt by decades of political unrest and instability, civil wars, and natural disasters.

Washed-coffee processing dominates in the key coffee-growing regions whose departments and cities include:
Estelí
Jinotega
Madriz
Matagalpa
Nueva Segovia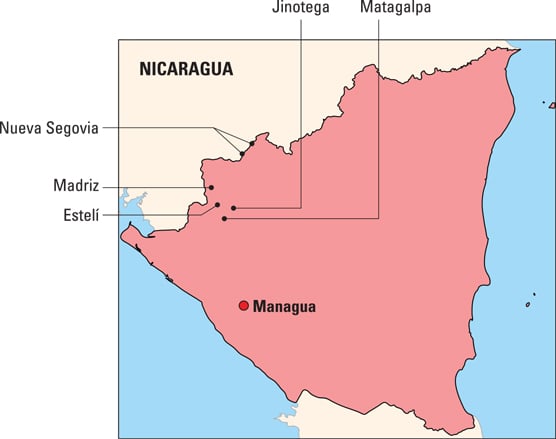 © John Wiley & Sons, Inc.
Coffee-growing regions in Nicaragua.
Nicaraguan coffees deliver a wide range in tastes from sweetness and complexity to mild acidity and fruitiness. The past decade has seen a big increase in quality.
Panama
European immigrants brought coffee to Panama when they settled in the late 19th century. Despite its location between two respected exporting countries—Costa Rica to the west and north and Colombia to the south and east—compared to its neighbors, Panama isn't a significant producer of any quantities of coffee.

The most well-known growing regions in Panama are:
Boquete in Chiriqui
Renacimiento
Volcán in Chiriqui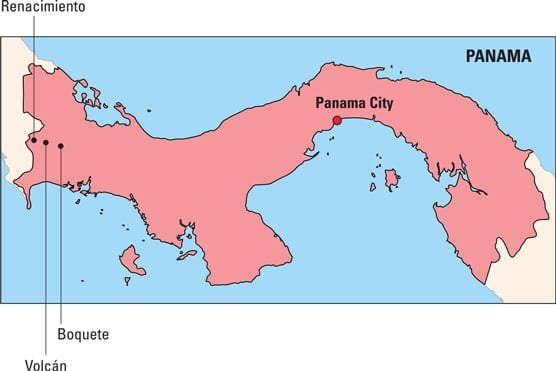 © John Wiley & Sons, Inc.
Coffee-growing regions in Panama.
Coffees from Panama are processed predominantly using the washed-process method. The coffee is commonly described as light, pleasant, sweet, and a bit floral or citrusy. First-time tasters are often struck with a sense of never having tasted such delicious coffee.
About This Article
This article can be found in the category: