The gauge swatch gets a bad rap because some knitters think knitting one is a waste of time and yarn. But the reverse is actually true; refusing to knit a gauge swatch may result in hours spent knitting something that turns out to be the wrong size or have the wrong tension. The gauge swatch helps safeguard you from making significant sizing blunders. That's why knitting one at the beginning of every project is very important.
But how do you use a gauge swatch to its full advantage? Here are some pointers:
Make it big enough. Size matters. You need a square at least 4 inches on all sides (not including the border) to ensure you measure gauge accurately.

Wash and block it. Your gauge swatch is a tool to tell you all you need to know about how the fabric is going to act when your garment is finished. For garments that need to fit, you need more than just a pre-block measurement. A garment will be washed at some point, and you need to know how the fabric will behave when that happens. It may get super fuzzy, stretch out of shape, or become completely distorted. Washing and blocking your gauge swatch lets you know that beforehand and prevents you from accidentally knitting any yeti sweaters.

Lace stitches tend to really open up when blocked, so you need to plan for the extra space. Meeting a lace gauge pre-block often results in a piece that is two times too big after blocking because the yarn overs open up and cover more surface area. Patterns always give a post block gauge measurement!

When blocking lace, really stretch those lace swatches. When the swatch is dry, unpin it and let the fabric rest a bit before measuring for gauge. This process will give you a true finished gauge.

Knit another one if necessary. If, after measuring your gauge swatch, you think you need to go up or down a needle size, you need to do another swatch to be sure that the change works.

Keep it handy as a pattern guide. When you have all the swatch measurements and the numbers coincide with the pattern (or you're satisfied with the fabric you've created to design your own project), don't throw out the swatch just yet. Write down the needle size and yarn you used for that swatch and pin the note to it. Hang on to this swatch through the duration of the project; it'll act as a good example of how the fabric should look.
Here's a swatch worksheet to help you keep track of the swatch information for your project.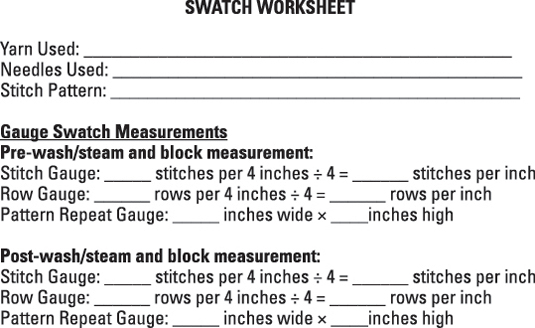 About This Article
This article is from the book:
This article can be found in the category: