You knit the wavy texture of this scarf by working increases and decreases in vertical columns, creating graceful scalloped edges. The stitches dip down at the decrease column and curve back up at the increases. To make the ends match, you work the scarf in two pieces from bottom up. You work the center portion of the scarf in a 2 x 2 rib that hugs your neck.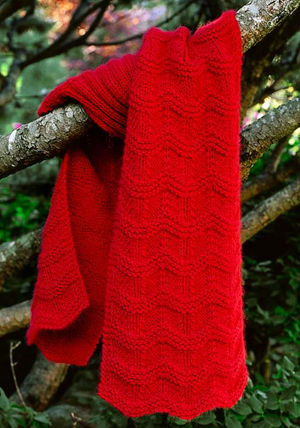 Here are the materials and vital statistics for this project:
Measurements: 54 inches x 8 inches

Yarn: 50% yak down/50% cormo, 150 yards per 1.98 ounces (56 grams), 3 skeins

Needles: One pair each of size US 6 (4 mm) and US 7 (4-1/2 mm) needles

Gauge: Instead of trying to match gauge, work up a swatch in stockinette stitch on size US 7 needles. If you like the way it looks, start the pattern. If it feels tight and doesn't have enough drape, go up a needle size. If your swatch appears too loose, go down a needle size.
Create a scalloped scarf:
Using the larger needles, cast on 41 sts.

Follow this stitch pattern:

Rows 1–6: Knit.

Rows 7, 9, 11, and 13: K2, * k in front and back of next st (kfb), k3, ssk, k1, k2tog, k2, kfb; rep from * to last 3 sts, k3.

Rows 8, 10, and 12: Purl.

Note: It may seem from the instructions that the pattern isn't symmetrical because there are 3 stitches on one side of the decrease and 2 on the other side. But because the increase creates a bar to the left of the increase stitch, the knitted fabric is the same on both sides of its center. You'll be able to see this symmetry after you work a few rows.

Rep Rows 2–13 nine more times. Then work Rows 2–6 once more. The piece should measure approximately 20 inches in length.

Change to the smaller needles and begin k2, p2 rib as follows. You decrease 1 stitch in the first row in order for the rib pattern to come out evenly.

Next row: K3, p2tog, p1, * k2, p2; rep from * to last 3 sts, k3 (40 sts).

Next row: P3, * k2, p2; rep from * to last 3 sts, p3.

Continue in rib for 7 inches. Bind off or transfer the stitches to a holder, depending on whether you want to seam the pieces or graft the ends together.

Work the second scarf piece as above. Block the pieces gently and seam or graft the center back ends of the scarf together.
You can modify this scarf in a number of interesting ways. Here are a few possibilities:
Turn the scarf into a shawl by making it wider (cast on another 12 stitches, or a multiple of 12). This variation will require more yarn.

Work the pattern in colored stripes or in a lightweight mohair yarn on large needles.
About This Article
This article is from the book:
This article can be found in the category: