You can recycle your old sheet sets into crocheted pillow covers to create a wonderfully textured effect. You can cut sheets into strips for crochet in several ways. The most basic way is to simply cut the fabric into equal-sized strips and then knot, sew, or loop them together into one long, continuous strand.
Materials and vital statistics
1 king (or 2 twin) sheets in color of your choice
Hook: Crochet hook size 50 U.S. (25 mm) or size needed to obtain gauge
Pillow form: 16 x 16 in. square
Large-eye sewing needle or yarn needle and matching heavy-weight thread
Measurements: 18 in. square
Gauge: 4 sts and 4 rows sc = 4 in.
Stitches used: Chain stitch (ch), single crochet (sc)
Directions
Cut the strips for this project approximately 2 inches in width. Don't worry about getting it exact; a little bit of variation adds to the charm! The figure and the accompanying instructions show you how to prepare the strips.

Follow this method:
Beginning with the short end of a twin-size sheet facing you, make a cut 1 inch in from the longest edge of the sheet.
Cut or tear the fabric, maintaining about a 1-inch width down the length of the sheet until 1 inch of fabric remains at the end; then stop.
Working in the opposite direction, make a cut 1 inch over from the last cut edge. Cut or tear the fabric in about a 1-inch width back across the length of the sheet until 1 inch remains; stop.
Repeat Step 3 until you've made a zigzag cut of 1-inch wide strips across the width of the sheet.
Starting at either the beginning or the end of your cut, wind the fabric strip in the same way you would a ball of yarn.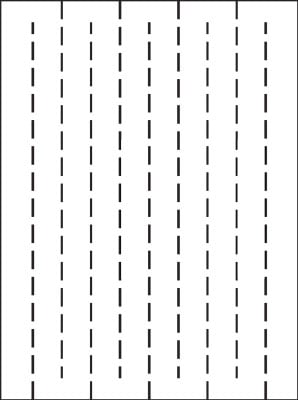 Cutting fabric into a continuous strip.
Repeat the preceding directions and wind each sheet into separate balls.
After all are cut, roll into a ball, and you're ready to go.
Foundation ch: Ch 26.
Row 1 (right side): Sc in 2nd ch from hook, sc in each ch across (25 sc), turn.
Rows 2-15: Ch 1, sc in each sc across (25 sc), turn.
Fasten off after Row 15.
Finishing
Fold fabric in half crosswise with right sides facing. Using needle and thread, matching stitches across edges, whipstitch 2 sides together, leaving remaining side open.

Turn right side out, insert pillow form into cover, and then whipstitch remaining opening closed.
About This Article
This article is from the book:
This article can be found in the category: