Make fluffy floral bows (florist bows) from ribbon to customize gifts and craft projects. A floral bow begins with a small central loop; the side loops gradually get larger as the bow gets bigger.
Assemble your materials: Spools of ribbon, sharp scissors, coordinating chenille stems (pipe cleaners) or clear plastic twist ties.
This bow is great for single-faced ribbon, which has a design or color on one side only. You can also use double-faced ribbon, which looks the same on both sides. Wired ribbon holds its shape and can be readjusted if the bow gets crushed.
If you're using twist ties, get them in varying lengths, from 4 to 7 inches long, for different sized bows, or buy a whole spool to cut any size you need.
Working from the spool, measure out some ribbon (this becomes a tail on the finished bow) and hold the ribbon color-side up. Twist the ribbon once, so that the other side shows. Hold the twist with your thumb and fingers.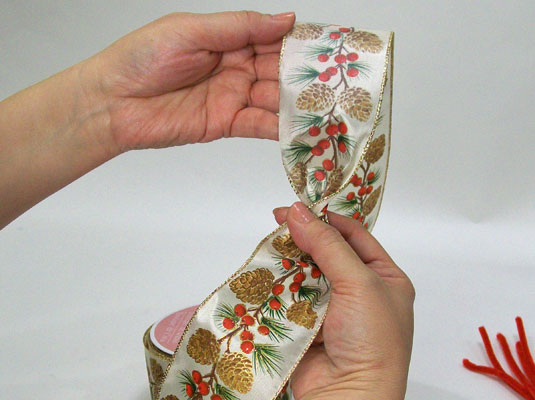 The tail can be as long or as short as you wish. You'll be holding all the completed loops in one hand as the other hand makes loops and twists.
Make a small loop, hold it, twist the ribbon again, and make a slightly longer loop. Twist, and make the third loop the same size as the second one.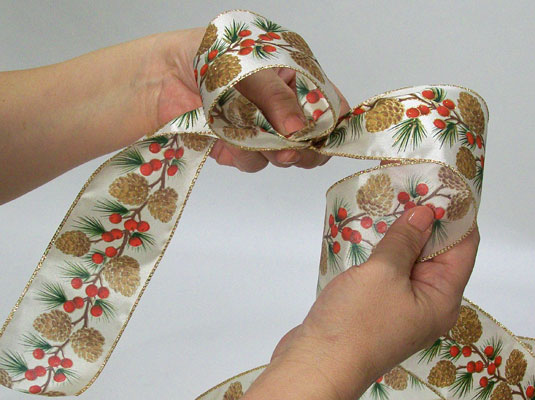 You now have the first (or central loop) and one loop to the side. Every time you make the twist, you are turning the ribbon so the color side shows.
Make two or three additional sets of loops, each set slightly longer than the one before it.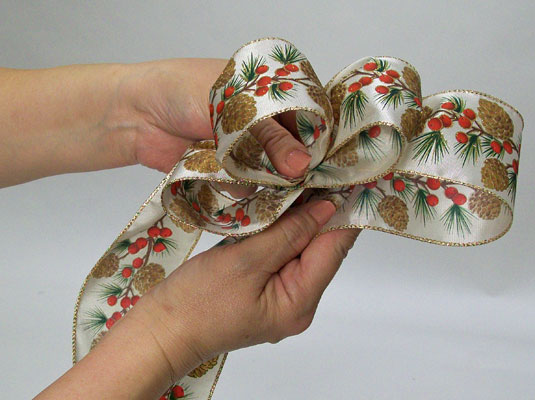 Secure the center of the bow by threading a twist tie or chenille stem through the central loop and make one or two twists in the back. Cut the ribbon from the spool to create a second tail.

You can also use a short length of ribbon to secure the loops.
Cover the twist tie.

Put a professional finish on the bow by covering the twist tie or chenille stem: Spread out the ends of the chenille stem in the back. Take one of the bow's tails from the back and bring up from the bottom, thread it through the central loop, and bring it down to the back. Secure with the chenille stem.
Adjust the loops and trim the ends of the tails at an angle or in a V-shape.

Tip: Ribbon will sometimes fray on the cut edge. To prevent this, seal the edge by applying a very thin line of clear nail polish or liquid seam sealant (such as Fray-Check by Dritz). Be sure to dry the ribbon thoroughly before adding it to the wrapped gift or it might stick to the paper.
Place finished bows on gifts, wreaths, and garlands.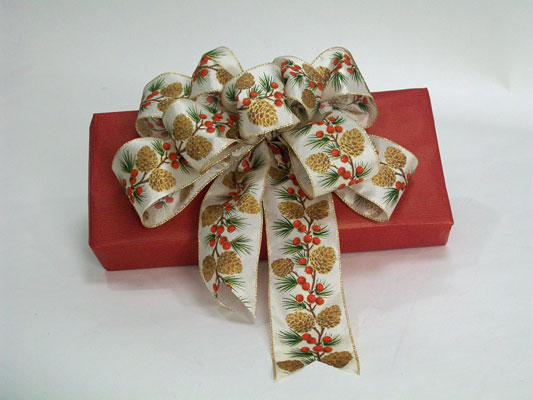 About This Article
This article can be found in the category: