Many real estate investors pick inspectors as an afterthought or simply take the recommendation of their real estate agent. But inspect the property inspectors before you hire one. As with other service professionals, interview a few inspectors before making your selection. You may find that they don't all share the same experience, qualifications, and ethical standards. For example, don't hire an inspector who hesitates or refuses to allow you to be present during the inspection or won't review the findings with you upon completion of the inspection.

The inspection is actually a unique opportunity for most property owners and, because you're paying, we strongly recommend that you join the inspector while he's assessing your proposed purchase. What you learn can be invaluable and may pay dividends throughout your entire ownership. When an unscrupulous contractor later tries to tell you that you need to completely replumb your property, you can recall that your property inspection revealed only isolated problems that can be resolved inexpensively. (Of course, inspectors, especially ones who aren't good, can make mistakes, so you should also dig into discrepancies raised by different real estate–related people. In other words, get a second opinion.)

About half of the states now have a license or certification requirement, whereas a few only have trade practice guidelines. This regulation is all relatively new because in 2000 virtually no governmental licensing or supervision of inspectors existed. Regardless of whether your state has strict licensing or certification requirements, every real estate investor needs to look out for her own interests and look for telltale signs of potential problems. Red flags include inspectors who are affiliated with a contractor, offer a special discount if you call who they recommend, or credit their inspection fee toward work.

Only consider full-time, professional inspectors. Hire an inspector who performs at least 100 comprehensive inspections per year and carries errors and omissions insurance. Such coverage isn't cheap and is another key indicator that the person is working full-time in the field and is participating in ongoing continuing education.

Many inspectors are licensed general contractors, but not all home inspectors have designations or credentials specifically relating to inspecting real estate. One of the best certifying trade associations for professional property inspectors is the American Society of Home Inspectors (ASHI), which was founded in 1976. In addition to home inspections, many ASHI members are qualified and experienced enough to assist you with your due diligence physical or structural exterior and interior inspection of multifamily residential properties and all types of commercial properties. You can find certified inspectors and more info about the inspection process including tips and checklists at the ASHI website.

Some individuals or companies adopt names that at first glance may indicate adherence to certain professional practices. For example, a fictitious but potentially misleading name is "Professional Property Inspection Association." Do some research to find the best state or regional association and one whose qualified members adopt a code of ethics. For example, in California, the California Real Estate Inspection Association is the group that offers education and designations for real estate inspectors.

Review a copy of inspectors' résumés to see what certifications and licenses they hold. A general contractor's license and certification as a property inspector are important, but also find out whether they've had any specialized training and whether they hold any specific sublicenses in areas such as roofing, electrical, or plumbing. These can be particularly important if your proposed property has evidence of potential problems in any of these areas. For example, if a property has a history of roofing or moisture intrusion problems, an inspector who's a general contractor and roofer is an extra plus.

The inspection report must be written. To avoid surprises, request a sample of one of the recent inspection reports that has been prepared for a comparable property. This simple request may eliminate several potential inspectors but is essential so that you can see whether an inspector is qualified and how detailed a report he will prepare for you. Check out the following figures for a sample interior inspection checklist.
Robert S. Griswold
Sample interior unit inspection checklist Robert uses for large multifamily apartment communities (page 1 of 2).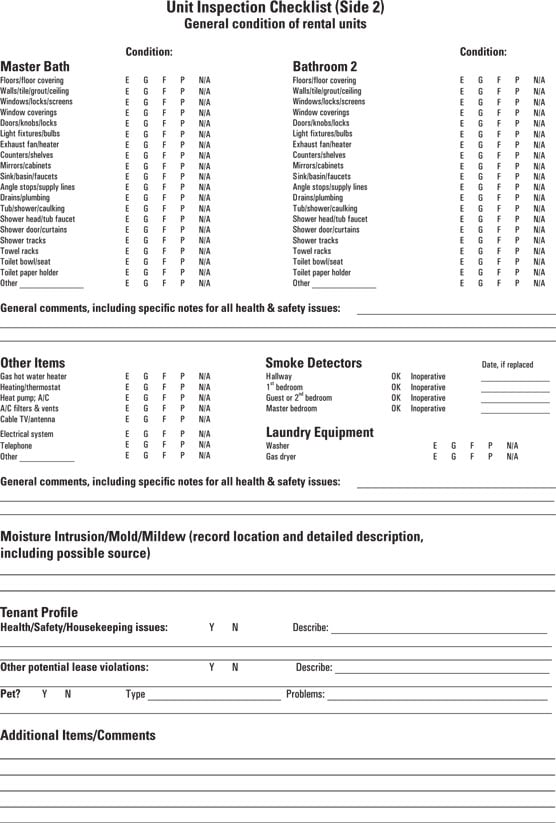 Source: Robert S. Griswold

Sample interior unit inspection checklist (page 2 of 2).

The advent of digital photography is a boon to property inspectors and makes their sometimes mundane and difficult-to-understand reports come to life. Select a technologically savvy inspector and require her to electronically send you her report, including digital photos documenting all the conditions noted. Recently, some inspectors have begun using advanced, non-invasive technology via an infrared or thermal imaging camera to produce images of heat radiation and identify energy efficiency concerns and electrical issues, as well as moisture intrusion scans inside walls or around plumbing fixtures. With the report in the electronic realm, it's a simple process to email this information as needed.

Although the cost of the inspection should be set and determined in advance, the price should be a secondary concern because inspection fees often pay for themselves. Just like many other professional services, there is a direct correlation between the pricing of your inspection and the amount of time the inspector takes to conduct the inspection and then prepare the report. If the inspector only spends a couple of hours at your new 20-unit apartment building, the report will surely be insufficient and your money not well spent.

Finally, require the finalists to provide the names and phone numbers of at least ten people who used the company's services within the past six months. Randomly call and make sure that these clients were satisfied and that the inspector acted professionally and ethically.
About This Article
This article is from the book:
This article can be found in the category: