Gold and silver have been hot for thousands of years, and they are hotter than ever in the 2020s! With the world in chaos, stock market dangers, inflation fears, and a dozen other factors bearing down on your financial well-being, having gold and silver in your portfolio means true diversification. It's time to discover the benefits that gold and silver add to your wealth-building arsenal.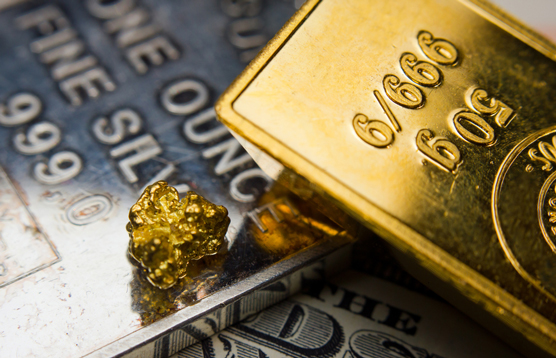 © corlaffra / Shutterstock.com
A Few Good Reasons for Investing in Gold and Silver
When you're talking with financial advisors or skeptical investors about gold and silver, here are some points to keep in mind about why gold and silver make sense as a portion of a serious investor's portfolio:
Since 2000, gold has gone up more than 510 percent, and silver has gone up more than 240 percent (as of August 2020). Meanwhile, the Dow Jones Industrial Average, Nasdaq, and S&P 500 went up only 124 percent, 140 percent, and 114 percent, respectively.
Gold and silver have never been at "zero" value, but thousands of currencies have become worthless since ancient times.
In current times, gold and silver will retain value, but many global currencies are moving toward being worthless.
Gold and silver don't have counterparty risk, while stocks, bonds, currencies, and other paper/digital assets have counterparty risk, which means they have the potential to go to zero. When an asset has counterparty risk, its value is based on the promise or performance of a third party, such as a company, government agency, or central bank.
Gold has been a proven hedge against systemic collapses, political scandals, and financial/corporate bankruptcies.
Silver is an excellent way to invest in technology because virtually all the recent technology (smartphones and the like) uses silver.
Silver is a great way to play the growth in solar energy technology because silver is a crucial ingredient in photovoltaic battery technology.
Gold is a proven inflation hedge and can help retirees who are on fixed incomes.
In the 2008 financial crisis, the only asset to survive that tumultuous market along with the U.S. dollar was gold.
Gold and silver are very scarce, and the demand-and-supply data for 2020 and beyond are favorable and are bullish factors versus other major asset classes.
Questions to Ask a Dealer Before You Buy Gold and Silver
You can't buy physical gold and silver from just anyone. Be sure to ask the following questions when you meet a dealer to make sure you're getting a good deal on your gold and silver purchase:
What are all the costs of ordering from you besides the spot price of gold (or silver)? It should be no more that the dealer premium, shipping charges, and sales tax (if applicable).
What is the premium (or price markup) per ounce? It should be less than 5 percent.
What are your shipping and insurance fees and policies? They should be similar to or duplicate major shippers' amounts.
Are there independent reviews of the dealers involved? Check out blogs and forums offering reviews.
Are there guarantees of authenticity regarding bullion coins? Dealers should be explicit in their guarantees.
If buying numismatic coins, are there guarantees of accurate grading? Ask dealers about their grading methods and standards.
What happens if I find another dealer with a lower premium (if the dealer guarantees the lowest premium in the industry, or dealer markup)? Find out before you buy.
If I decide to sell, what is your policy of buying back gold and silver? Ask about buy-back policies before you purchase.
About This Article
This article can be found in the category: