Palladium, which belongs to the platinum group of metals (PGM), is a popular alternative commodity to platinum in the automotive industry and the jewelry industry. Its largest use comes into play in the creation of pollution-reducing catalytic converters. Palladium's malleability and resistance to corrosion make it the perfect metal for such use.
Because palladium is less expensive per troy ounce than platinum, it's increasingly becoming the metal of choice in manufacturing these devices. Here are the main uses of palladium:
| Sector | Percentage of Total |
| --- | --- |
| Auto industry (catalytic converters) | 58% |
| Jewelry | 26% |
| Electronics | 17% |
| Dentistry | 15% |
| Other | 4% |
Source: U.S. Geological Survey
Palladium has benefited from more stringent fuel emission standards established by the Environmental Protection Agency (EPA) and other international environmental organizations. All things equal, if emissions standards are further improved and require a new generation of catalytic converters, demand for palladium will increase.
Another reason to be bullish on palladium is that the number of automobiles, trucks, and other vehicles equipped with platinum- and palladium-made catalytic converters is increasing, particularly in China. If you invest in palladium, keep an eye on automobile-manufacturing patterns.
Two countries essentially dominate the palladium market: Russia and South Africa. These two countries account for more than 85 percent of total palladium production.
| Country | Production (Million Ounces) |
| --- | --- |
| Russia | 3.7 |
| South Africa | 2.4 |
| North America | 0.8 |
| Zimbabwe | 0.2 |
| Other | 0.25 |
Source: U.S. Geological Survey
Because these two countries dominate palladium production, any supply disruption from either country has a significant impact on palladium prices. Such was the case in early 2000, when the Russian government announced it would halt shipments of palladium and other platinum group metals for the year. As you can see, the price of palladium in the year 2000 almost doubled, partly in response to Russian supply-side disruptions.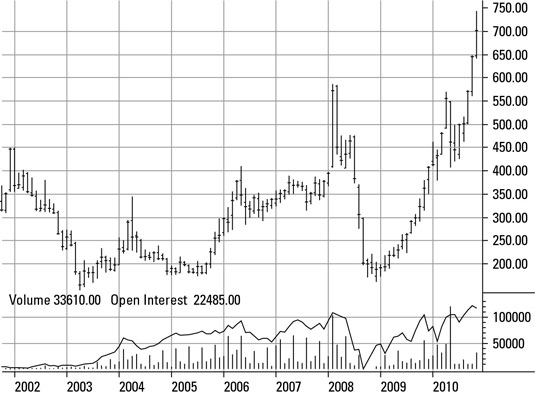 The Russian government eventually announced a resumption of palladium-mining activity, and prices dropped back to normal levels in 2001. As a result of this price shock, mining companies have tried to diversify their activities beyond Russia and South Africa.
However, there's no way around the fact that most of the world's reserves of palladium ore are located in these two countries. As a matter of fact, perhaps no two countries dominate a commodity as much as Russia and South Africa dominate palladium.
Keep in mind the unique market structure as you consider investing in this precious metal.
About This Article
This article is from the book:
This article can be found in the category: