The 21st century is going to experience the largest population growth in the history of humankind, which will lead to growth in commodities. The United Nations (UN) estimates that the world will add a little less than 1 billion people during each of the first five decades of the 21st century.
The global population will grow to about 9 billion people by 2050 (as of 2010, approximately 6.8 billion people live on the planet).
Also consider the following statistic: According to the UN, the average number of years it takes to add 1 billion people has shrunk from an average of 130 years in the 19th century to approximately 13 years in the 21st century! The rate at which the human population is increasing has reached exponential levels.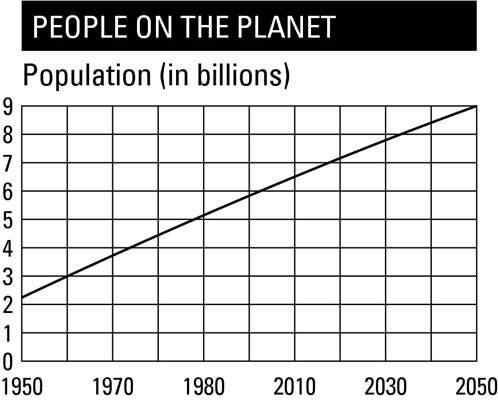 So how is this relevant to commodities? Put simply, significant population growth translates into greater global demand for commodities. Humans are the most voracious consumers of raw materials on the planet — and the only ones who pay for them.
As the number of humans in the world increases, so will the demand for natural resources. After all, people need food to eat, houses to live in, and heat to stay warm during the winter — all of this requires raw materials. This large population growth is a key driver for the increasing demand for commodities, which will continue to put upward pressure on commodity prices.
About This Article
This article is from the book:
This article can be found in the category: