If you're investing in energy, keeping the pulse of constantly evolving energy technologies is vital because they can cause price swings in energy commodities or make once-dominant companies obsolete. New natural gas drilling technologies, for example, have allowed levels of recovery in the United States not seen for decades.
As a result, natural gas prices fell to new lows in 2012, to $1.82 per MMBtu, as you can see in this figure. In 2008, prices were more than $13 per MMBtu, showing how much volatility technology can usher in.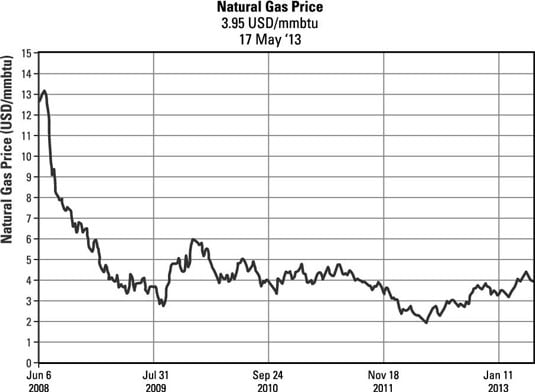 Changing technology can also put companies out of business. Just think of typewriters and computers, or horse-drawn carriages and cars. Though naysayers point to the failing of numerous clean energy companies as evidence the industry is doomed to fail, this is a part of the maturation of any industry.
As technology improves and the cost of clean energy continues to fall, many companies won't make it. And you don't want to get stuck holding stock in a company whose technology is about to be defunct or cost-prohibitive.
One way to stay on top of new energy technology trends is to monitor the advancements being made at the Advanced Research Projects Agency-Energy (ARPA-E), modeled after the Defense Advanced Research Projects Agency (DARPA), whose innovations include the GPS, the stealth fighter jet, and the Internet.
About This Article
This article is from the book:
This article can be found in the category: