Global governments and organizations have a strong influence on the energy industry. You can see this influence in things like the United Nations' Kyoto Protocol, which sets binding targets for industrialized countries to reduce emissions of greenhouse gases.
Nearly 200 countries have signed and ratified the Kyoto Protocol, and their efforts to curtail emissions dictate the types of energy they use and invest in. You can read about the ongoing implementation at the United Nations Framework Convention on Climate Change website.
Despite global acknowledgement of the need to expand cleaner sources of energy, fossil fuel subsidies are still far greater than those given to renewable energy. In 2010, global renewable energy subsidies stood at $66 billion, while $775 billion was spent subsidizing oil, gas, and coal.
And though world leaders pledged to phase out fossil fuel subsidies at the G-20 summit in 2009, the amount of fossil fuel subsidies continues to expand, signaling the need for government help to keep up with pressing demand. This figure shows a breakdown of fossil fuel subsidies in 2012.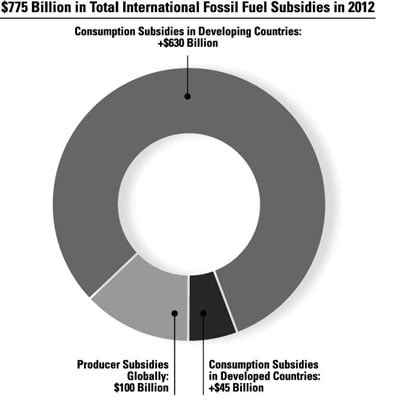 You need to be aware of government involvement in energy markets because any fluctuation or outright deduction would have a clear effect on related energy investments. According to the International Energy Agency, the world would use more than 900 million fewer metric tons of oil equivalent from oil, gas, and coal if global subsidies were phased out, as seen in this figure.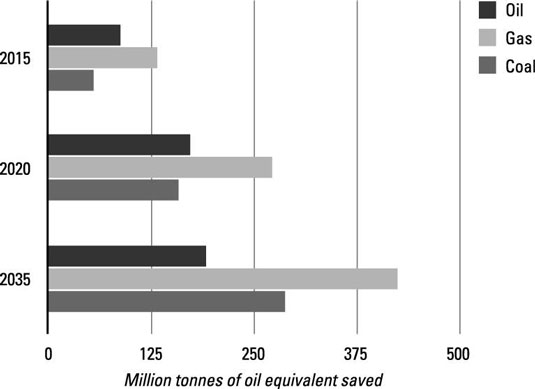 That would clearly be detrimental to the value of oil, gas, and coal commodities and countries and would be a boon for clean energy, so make sure you keep an eye on global energy policy. One of the best places to do so is at the Countries page of the U.S. Energy Information Administration website.
About This Article
This article is from the book:
This article can be found in the category: