Blockchain technology in general, and Ethereum in particular, is rapidly growing in popularity. Increasing numbers of organizations are embracing Ethereum for new projects. The variety of projects that use Ethereum as their foundation is almost limitless.

A quick look at the State of the dApps website shows how many Ethereum projects exist in different categories and how popular they are. This resource is a great way to stay current on trending dApps.

Although these Ethereum projects are just a small representative sample of what is out there, they will give you some exposure to what others are doing with Ethereum. Perhaps you'll find some ideas for new and exciting ways that Ethereum can help transform your organization.

Though these projects are very different, they are all built on Ethereum. Each project uses smart contracts running on the EVM to carry out functionality and the Ethereum blockchain to store state data.
Gnosis predicts future events with Ethereum
Gnosis is one of the many innovative companies using Ethereum in interesting ways. Gnosis provides a platform for prediction markets. The Gnosis Olympia product is the alpha version of their platform. Using Olympia, participants get an initial balance of OLY tokens, pretend money they can use in Olympia, which they use to make predictions on a variety of topics. Participants can win GNO tokens for making successful predictions.

Participants who set up predictions associate the prediction with an oracle for outcome validation. For example, the true value of a specific stock price at a specific date and time is easily validated by comparing the prediction with published stock prices. The stock price data source would be the oracle that the stock price prediction uses for validation.

Gnosis Olympia provides the platform for participants to determine the probability of a given outcome. You can use Olympia to determine an expected value of some item of value. Knowing an item's value gives you more leverage in negotiations.

Another possible use is elections. Distributed prediction markets could emerge to provide better forecasts of upcoming elections. Political polling is often criticized for imprecision, and emerging products could make it more accurate.
Augur crowdsources event predictions
Augur is another offering in the prediction market category. As they do using Gnosis, participants can record events and then provide a prediction on the outcome of the event. Augur rewards participants with REP tokens in exchange for providing accurate data related to the event and for voting with the majority.

Augur is based on crowdsourced data and gets more accurate with the inclusion of participant data. That's why submitting accurate data earns rewards. An oracle validates event data and outcome, but the emphasis is still on crowdsourced input.

Augur is completely decentralized and depends on smart contracts and the Ethereum blockchain to operate. Its goal is to provide a global portal that generates better forecasts about the outcome of any future event that enjoys widespread global interest.
Aragon manages decentralized organizations with Ethereum
Aragon is a platform dedicated to helping manage decentralized organizations, which often suffer from a lack of infrastructure and functionality. Aragon participants buy Aragon Network Tokens from one of several popular cryptocurrency exchanges and use ANT to pay for Aragon services.

Aragon facilitates distributed autonomous organization governance, fundraising, and accounting. For example, Aragon participants can pose questions to their organization for voting. The Aragon environment handles all of the details of managing the voting process, resulting in verified election outcomes. Voting is just one of the features of the platform.

The Aragon project has as its goals to empower decentralized organization participants by promoting participation and providing financial transparency. Aragon enables organizations to exist outside the traditional hierarchical, centralized model.
Breed and collect cryptokitties in Ethereum
Ethereum isn't just about cryptocurrency and business function. You can find some fun games in the Ethereum space. too. Cryptokitties, one of the first Ethereum-based games, is still popular. This revolutionary game introduced blockchain-based cryptocollectibles. That's right. Cryptokitties are collectible.

Each cryptokitty is unique. Technically, each cryptokitty is an ERC-721 token and has a unique set of cattributes (cryptokitty DNA) that come from each cryptokitty's parents. You don't create cryptokitties; you breed them.

And just as in real life (well, kind of), you can either trust genetic luck to create a rare and valuable cryptokitty, or you can pay a siring fee to another cryptokitty for the capability to breed using their cryptokitties. Each cryptokitty has a different value, based on the rarity of its cattributes. In the past, some cryptokitties with rare cattributes (and a favorable ETH exchange rate) sold for more than $100,000 USD.

The image below shows the Cryptokitties website with examples of a few cryptokitties, each with its own unique cattributes.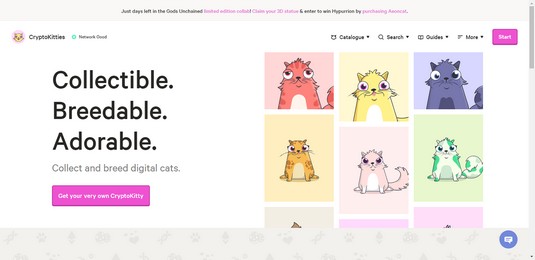 Cryptokitties website
Exchange tokens with IDEX
Thousands of ERC-20 tokens are in use. Before you can use a token to pay for something, you have to acquire it. Some tokens are free, but others must be purchased. To buy a token, you must exchange currency or cryptocurrency, so you need an organization that provides exchange services.

IDEX is a decentralized exchange that specializes in trading between ETH and ERC-20 tokens. It confirms transactions in its smart contract, without waiting for Ethereum block mining. IDEX's capability to confirm transactions in real time allows traders to trade continuously.

Orders are recorded on the Ethereum blockchain in the order in which they were received, but traders don't have to wait for their tokens. They receive them as soon as their order is approved by the smart contract.

This image shows the IDEX website with a list of the most active Ethereum ERC-20 tokens.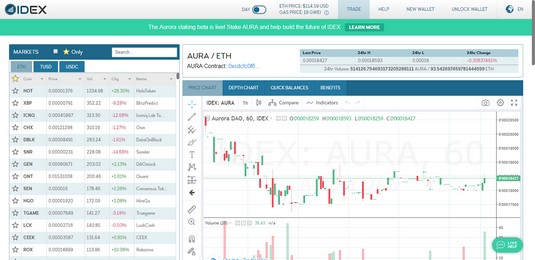 IDEX website
Use Ethereum to create your digital identity with uPort
The uPort dApp is an innovative initiative with a simple purpose: to provide a decentralized identity for everyone, stored on the Ethereum blockchain. A user registers their identity through uPort. Once authenticated, users can use the uPort digital identity to sign digital contracts and interact with other services that require validated identities.

The uPort dApp has scores of potential uses. One of the most visible needs uPort could help address is in providing people who have lost physical identification items to still provide proof of identity when required. Survivors of catastrophic events often have no identification. Accessing an immutable digital identification could help. Digital identities could help with immigration, voting, and other cases where identification is required.
Share your thoughts on the blockchain with EtherTweet
As its name suggests, EtherTweet is a blockchain alternative to Twitter. The main difference is that EtherTweet is censorship-free because all messages are stored on the Ethereum blockchain. You can post up to 160 characters.

Although prices change based on the current value of ether, creating an EtherTweet account costs about 2 cents and each tweet costs about one third of a cent. The following image shows the EtherTweet website with instructions on using their web interface to post and read tweets.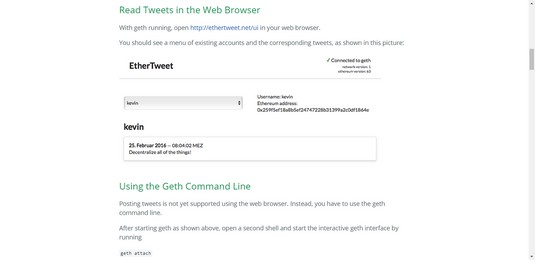 EtherTweet web interface
Use Ethereum to search for Jobs with EthLance
EthLance is a distributed platform for freelancers and employers to find each other, engage in jobs, and transfer payment in ether. EthLance is part of the district0x network, which is a collective of decentralized marketplaces and communities. One of EthLance's outstanding features is that it does not collect any fees.

Membership in EthLance is free, and both freelancers and employers can use the network to match personnel with open jobs. Once work is complete, employers can pay freelancers directly using ether. The entire EthLance platform runs in Ethereum. The transparent nature of EthLance and its zero fees model make it a great resource for self-employed individuals.

The image below shows the EthLance website with their "how it works" graphic showing how freelancers and employers can use the services.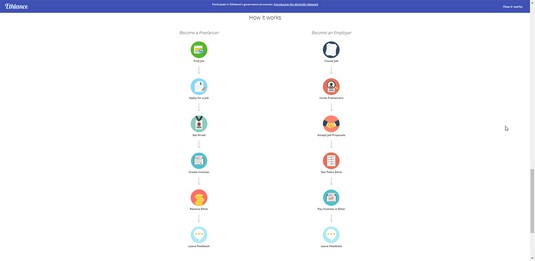 EthLance website with participation description
Using TenX to pay with ether and other cryptocurrencies
TenX allows customers to use ether and other cryptocurrencies at retailers to pay for purchases around the world. Although most retailers don't directly support cryptocurrencies yet, TenX created their own line of crypto debit cards and credit cards that link up with its proprietary crypto wallet. The TenX cards provide the bridge between cryptocurrencies and traditional payment vehicles.

TenX records all payment transactions on the blockchain and has plans for a larger network that will allow apps to communicate across multiple blockchains.

The image below shows the TenX website with an image of their TenX debit card.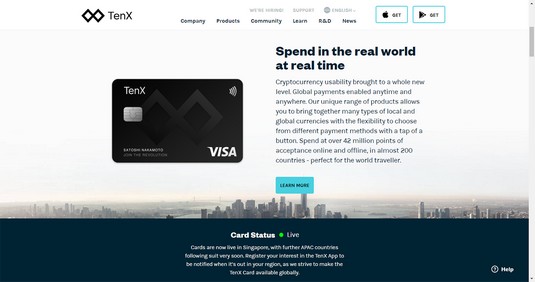 TenX debit card
Use Ethereum to buy and sell computing power with Golem
The last innovative Ethereum project is Golem. Golem is a decentralized marketplace for buying and selling computing power. Whether you have excess computing power you'd like to sell, or you need to temporarily rent more computing power to complete a project, Golem can help. You can use Golem supercomputers after paying in native GNT token, or you can earn GNT by letting others use your excess computing power.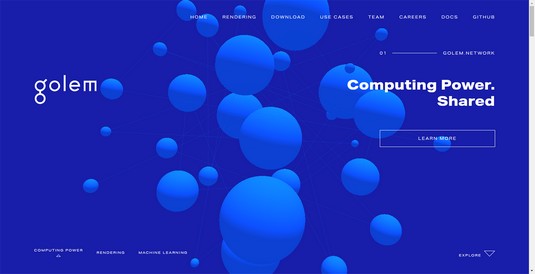 Golem website
Ethereum can be used for all sorts of creative projects. How will your organization use Ethereum?
About This Article
This article is from the book:
This article can be found in the category: