Diversification is entering new markets with new products. Sometimes you just need to bust out and try something new — like learning the polka. Or if you're a tobacco firm, buying a packaged-food company; a cola firm entering the water business; or a chemical company going into the spa supply business. All these moves, except the polka of course, are examples of diversification. (The polka would be diversifying your dance portfolio, but that's another book altogether.)
Many companies appreciate the need to diversify but few use it as a way of relating to their markets. Fundamentally, this strategy is about creating new products with new product life cycles and making the existing ones obsolete.
By doing so, firms launch new products that are developed not just for current customers but for new ones, too. To execute this strategy, you usually manage a merger, an acquisition, or a completely new business venture.
Well-known, highly innovative companies include Intel, Google, DuPont, and all the pharmaceutical companies. A company's diversification strategy can be either related or unrelated to its original business. Related diversification makes more sense than unrelated because the company shares assets, skills, or capabilities. But many successful companies, such as Tyco and GE, continue to buy unrelated businesses.
As discussed below, this figure summarizes the reasons for related and unrelated diversification.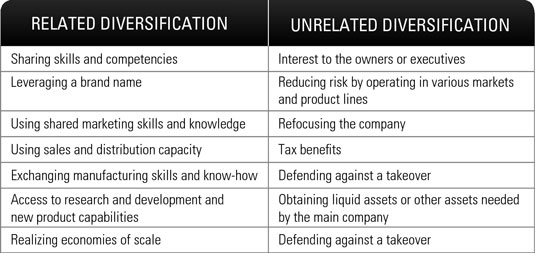 Related diversification
In related diversification, companies have a strategic fit with the new venture. To make this strategy work, you capitalize on the strengths or competitive advantage you've already established.
Richard Branson, famous for his company Virgin, has more than 300 companies that carry the Virgin name: Virgin Atlantic, Virgin Mobile, and Virgin Galactic — his most recent venture into space travel — are just a few examples. This related diversification strategy works because all the companies share the brand, marketing, public relations, and corporate knowledge.
Unrelated diversification
Unrelated diversification has nothing to do with leveraging your current business strengths or weaknesses. It's more about not putting all your eggs in one basket. For example, an investor diversifies his financial portfolio to protect against losses. Many entrepreneurs execute this strategy unknowingly by becoming involved in multiple, unrelated businesses. Unrelated diversification is the most risky of all the market level strategies.
Hypothetically, say the owner of a local IT consulting company decided to take over a failing sandwich shop because he always wanted to be in the restaurant business. Clearly, these two businesses are unrelated. But by accident, the business owner is executing a diversification strategy. He's now in the IT industry and the dining industry.
About This Article
This article is from the book:
This article can be found in the category: