After assessing the strengths and weaknesses of your business for your business plan, look for external forces, like opportunities and threats, that may have an effect on its destiny. These changes include
The appearance of new or stronger competitors

The emergence of unique technologies

Shifts in the size or demographic composition of your market area

Changes in the economy that affect customer buying habits

Changes in customer preferences that affect buying habits

Changes that alter the way customers access your business

Changes in politics, policies, and regulations

Fads and fashion crazes
List the threats and opportunities facing your business, and follow these guidelines:
When listing opportunities, consider emerging technologies, availability of new materials, new customer categories, changing customer tastes, market growth, new uses for old products (think about how mobile phones and even eyeglasses now double as cameras and computers), new distribution or location opportunities, positive changes in your competitive environment, and other forces that can affect your success.

When listing threats, consider the impact of shrinking markets, altered consumer tastes and purchase tendencies, raw material shortages, economic downturns, new regulations, changes that affect access to your business, and competitive threats, including new competing businesses and competitive mergers and alliances. Also think about the impact of expiring patents, labor issues, global issues, and new products that may make your offering outdated or unnecessary.
If you're having a tough time getting specific, look back at the strengths and weaknesses, but this time, use it to list strengths and weaknesses of a competitor. You won't know as much about your competitor's capabilities as you know about your own, but you probably know enough to flag areas of strength and weakness. Your competitor's strengths are potential threats to your business, and its weaknesses present potential opportunities.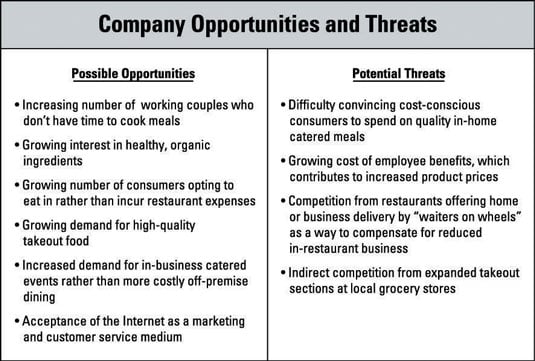 Looking over this list, the caterers were encouraged. Their opportunities outnumbered their threats. What's more, they were convinced that they had the capabilities to capitalize on the pluses and counter the negatives.
About This Article
This article can be found in the category: