One sure-fire way to grow your Etsy business is to become a wholesaler — that is, to sell the products you make to other retailers. To facilitate this, Etsy has created Etsy Wholesale. Etsy Wholesale gives Etsy sellers (read: you) access to more than 20,000 registered retailers. Plus, with Etsy Wholesale, you can integrate your wholesale business with your Etsy shop for easy management.

When you sell goods through Etsy Wholesale, Etsy charges a 3.5 percent transaction fee. This fee will be added to your Etsy bill.

Before you launch your wholesale business, Etsy suggests that you do a little soul-searching. That means making sure of the following:
You've developed a product line with an assortment of items that will appeal to a range of retailers.
You've developed a solid brand that is expressed both in your product line and in your packaging.
You can slash retail prices in half (or more) for wholesale clients and turn a healthy profit.
You have the cash flow to cover the upfront costs associated with producing your product line.
You have a streamlined and scalable production process.
You have enough space in your studio to stow stock and supplies as well as crank out your creations.
If you decide to sell wholesale, you may need to hire help or partner with an outside manufacturer.

Although literally anyone can become president of the United States, not everyone can become an Etsy wholesaler. Etsy vets all prospective wholesalers to ensure that they (you) meet a few key criteria:
Your pricing structure passes muster. Your wholesale prices must be at least 50 percent less than each item's suggested retail value, and each item's suggested retail value must match up with its price in your Etsy shop.
Your Etsy record is clean as can be. If you don't have a solid review score, you have a history of delinquency paying your Etsy fees, or you fail to demonstrate compliance with Etsy's policies, you won't make the cut.
Your Etsy shop is the real deal. Don't just throw together an Etsy shop and expect to be cleared to sell wholesale. Your shop should offer a solid assortment of products and reflect a unified brand.
Visit Etsy Wholesale for Designers and click the Apply button to begin the approval process.

Assuming that you make the cut, setting up your Etsy Wholesale storefront involves three key steps:
Outlining your Etsy Wholesale policies: As shown, these are similar (though not identical) to the policies you set for your Etsy retail shop.

Source: Etsy.com

Outline your Etsy Wholesale policies.

Setting up your Etsy Wholesale shop profile: Again, this is a lot like the profile you set up for your Etsy retail shop.

Source: Etsy.com

Creating an Etsy Wholesale shop profile.

Speaking of the profile for your Etsy retail shop, it doesn't hurt to include a sentence or two on that shop's page indicating that you're an approved Etsy Wholesale seller.

Generating a linesheet: A linesheet is a little like a catalog. It contains information about each product you carry, including the following:

A clear image of each product you sell
The product's name
A unique product number or stock keeping unit (SKU)
Available sizes
Available colors
Materials used to make the product and how they're sourced
Pricing information (both the wholesale price and the recommended retail price)
Info about you, such as a bio, and how to contact you
Info about your ordering process, including minimum quantities
Etsy automates the process of generating your linesheet with the Linesheet Organizer. All you have to do is upload your photos, type in a description for each product, specify pricing, and publish.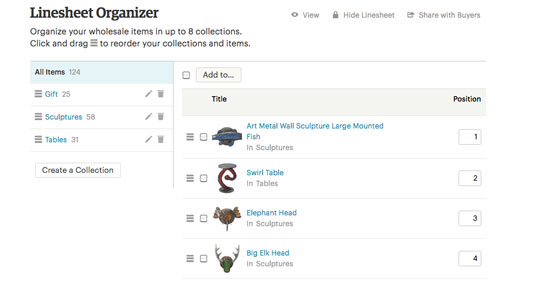 Source: Etsy.com
The Linesheet Organizer.
You aren't limited to sharing your linesheet with registered Etsy Wholesale buyers. You can also share it with buyers who aren't on Etsy's wholesale platform by providing them with a guest pass. To generate a guest pass, click on the Shop Manager link. Then click the pencil icon next to the Wholesale entry under Sales Channels. The Linesheet Organizer opens. Click the Share with Buyers link in the upper-right corner. Then copy the link that appears and paste as needed. This link takes buyers to your linesheet as well as to your wholesale shop policies and profile. (Buyers will need to register with Etsy to start a purchase order.)
You probably feel like we haven't gone into enough detail to really get you up and running with Etsy Wholesale. We get it. We feel that way, too. The problem is, if we tried to cover everything there is to know about Etsy Wholesale, we'd wind up writing a whole other book. Fortunately, Etsy has lots of resources to help you set up your wholesale operation, including a four-week email course on the subject. Sign up for the course.
About This Article
This article is from the book:
This article can be found in the category: