Starting an online business is more affordable than ever. You no longer have to invest several thousand dollars in big, clunky pieces of equipment because both the size and the price of these items have dropped tremendously.

For example, cloud-based offerings are readily available, which provide access to web-based products and services at low monthly (or annual) rates. Typically, you don't sign a contract, so you have the flexibility to drop or change services. In addition, free and low-cost applications (apps) for mobile devices such as smartphones and tablets can replace some standard office equipment or services.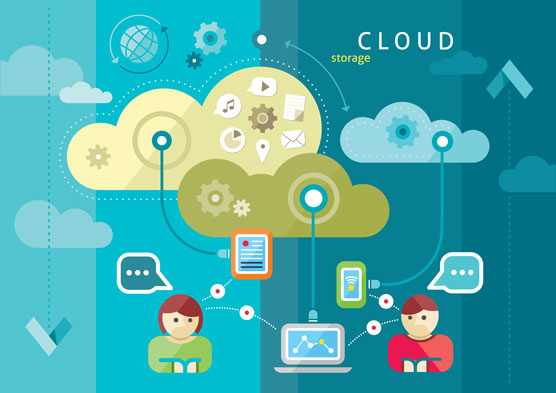 ©robuart/Shutterstock.com
All this serves as further testament to the power of the Internet, and how easy and affordable it is to start an online business.
Make form follow function
Rather than think about your office equipment in terms of a collection of cartridges and cords, think of each piece in terms of the function it provides. You need access to some key functions (equipment) to run a business.

This list describes the functions most businesses need access to most often:
Printing: Although most of your correspondence can be conducted online, you still need to print invoices, offline marketing materials, and hard copies (printouts) of items for your files. You can choose from different types of free-standing or desktop printers with various capabilities. Printers can range from $20 to $250. You can eliminate the need for printing invoices entirely by using low-cost online services such as Zoho or PaySimple, that let you invoice customers and manage and collect payments entirely online.
Rather than compare only printer functions, be sure to also compare ink cartridge requirements before you buy a printer. An ink cartridge is often almost as expensive as the printer itself; a $50 printer can require a $30 ink cartridge, for example. Be sure to find out whether the printer requires a particular brand of cartridge and how much the cartridges for that printer cost.
Faxing: The use and legal acceptance of electronic signatures has decreased dependency on faxes. But some industries and businesses still require a fax. Rather than purchase a separate fax machine, consider signing up for a web-based fax service and receive faxes as attachments to your email. Services such as eFax and MyFax offer complete fax solutions for as little as $10 to $17 a month. A business phone system with unified communications features, can also handle your fax needs entirely through your phone system.
When comparing online fax services, make sure that you can send and receive faxes from your iPhone, Android, or other smart device. Also be aware of fees charged for overages of incoming and outgoing pages, fees for additional users, and limits on storage time frames and volume for faxes sent or received.
Copying: Having access to a small copier can be a good investment for your office. When you shop for a copier, decide which features you need:

Do you want color printing, or is black-and-white print suitable?
Will you use a duplexing feature, which prints both the front and back of the page?
Is collating (automatically stacking and binding papers as they print) a big deal?
Also look for copiers that
Add large amounts of paper to trays at one time so that you're not continually refilling them
Have a quick warm-up time (the time it takes the equipment to prepare to print) so that you can start copying quickly
Are suitable for small to mid-size print job volumes

Scanning: A scanner enables you to scan images or documents into your computer for manipulation or storage or to send as files or faxes to others. This piece of equipment isn't as much of a requirement as it once was for many types of businesses, but is still particularly useful when you frequently work with photos and other images. Most scanners come with custom software you must install. (Or try the Windows Scanner and Camera Wizard, in the Windows Control Panel.)
If you need a scanner for only documents or for limited use of image scanning, consider downloading a scanner app for your mobile phone. Apps are available for the iPhone, iPad, and Android smart devices and provide the capability to scan documents or images and then email, fax, or print directly from your phone. You can also share scanned files to Dropbox, Google Drive, or Evernote. (Use this method to track business receipts, too.) Try DocuScan, Scanner Pro, or Tiny Scanner Pro. The apps range in price from $2 to $8. Or you can get a less robust version of a scanner app for free.
Mobile communications: Cellphones have gone from being nice-to-have to being a must-have. Specifically, you need a smartphone that's capable of accessing various applications for maximum efficiency, whether or not you're in your office. You might even require a tablet (such as an iPad), too. These devices are important tools to help you manage your online business. Moreover, online consumers are researching and purchasing products and services directly from mobile devices, so you need to be able to test functionality and accessibility of your website from those devices. Not to mention, one of the benefits of having an online business is that you aren't necessarily hemmed into a certain geographic location; a smart device helps you stay mobile and work from anywhere.
Business communications: Today, you have several options for using a phone in your business. For example, some business owners opt to go without a landline (traditional phone line) and use only a cellular (or mobile) phone. Others save money by sharing a residential line with both their home and business. (This option can be tricky and can come across as unprofessional.) You may consider opting for VoIP (Voice over Internet Protocol), an IP-based option that allows you to share data and voice over a single line. Web-based options, such as Google Voice, Skype, and WebRTC applications, also allow you to make calls over your computer. Most cable companies are offering to bundle your Internet service and voice service. Going this route is often much less expensive than using traditional phone lines and can provide a wider range of functionality. Traditional business phone system vendors also offer cloud-based versions so that you get advanced features without the cost or hassle of managing a complex system. At the end of the day, know that you have lots of options when it comes to how you communicate with your customers.
Digital photography: You might not be used to including a camera in the category of business tools. Yet, in building and maintaining an online business, a digital camera and a video camera might be a requirement, especially if you have an eBay store or any other online retail type of store. Cameras are increasingly important with the growing use of social media as a marketing tool. Sharing pictures on social networks such as Pinterest or Instagram or uploading videos to YouTube, for example, is almost a necessity. At the very least, you need a camera to take product pictures that you can upload to your site. (Some smartphones may be suitable for taking video or pictures to share on social media, but a better quality camera is preferable for high-resolution product pictures for use on your website.)
Shredding: Considering the rise in identity theft, disposing of documents that contain sensitive information — such as billing statements with account numbers or credit card numbers — is more important than ever. Shredding these documents is an easy way to protect your business — and cuts down on storage. A small, portable shredder can be purchased for less than $50; a shredder designed to handle large volumes of paper may cost several hundred dollars or more. It may be worth the extra expense to get a shredder that's hefty enough to dispose of credit cards. Data thieves consider both items to be valuable finds. Alternatively, consider using a mobile shredding service, such as Shred-it, for particularly large amounts of documents.
Before destroying all your documents, be mindful of any business records that the IRS requires you to keep for tax purposes. Consult a tax advisor if you're not certain about how long you should keep some business records.
If you can't afford to purchase all your equipment right away, locate a small-business service center close to your office. These centers offer fax, printing, binding, and other services at competitive prices. You can find these service centers in copy stores, such as FedEx Office, or in retail office-supply stores, such as Staples. If you rent a shared office space, or coworking space, these business tools and services are often included as part of the monthly rent.
Revving up with a powerful computer
One important piece of equipment for your new online business is a computer. It's the heart and soul of your office because all your valuable data resides on it and you use it to communicate with folks in all kinds of ways. How do you know whether your existing computer makes the grade now that you're an online entrepreneur? Should you upgrade or buy new? If you buy a new one, how can you be sure that you're investing your dollars wisely? And most importantly, should you buy a PC or a Mac? Although those questions are tricky, they have simple answers.
Jumping into the upgrade-versus-purchase debate
Overall, the cost of purchasing a basic PC computer is outrageously low. You probably receive promotions advertising new desktop computers for $299 — or less. By the time you calculate your time or pay somebody else's labor fee and buy parts, can you truly upgrade an existing computer for that price?

Not so fast. You have to compare apples to apples by looking at more than just the price tag. Compare capabilities. That off-the-shelf computer for $299 may be a bare-bones, stripped-down model — probably no more powerful than that old machine you used for the past couple of years. Sure, the new one might work a bit faster; to get comparable features, though, you most likely have to add memory, hardware, and other applications to truly address your needs. By the time you upgrade your new computer, you may have sufficiently passed its original $300 off-the-shelf price threshold to make you reconsider buying new. Whether or not it's truly a bargain depends on the functionality and power you need.

If you have the skills and the comfort level to take apart your computer, add components, and then put Humpty Dumpty together again, upgrading can be a cheap and relatively easy solution.
Taking the plunge: Buying new
You might be more comfortable buying a computer with all its parts already assembled. You can still design a custom computer by choosing the options you want and letting a computer retailer customize it for you. Or you can purchase an off-the-shelf machine that's already loaded and ready to go.

How do you decide which computer is right for you? The simplest way to approach this decision is by backing into it. Follow these general guidelines:

1. Decide how you will use the computer.

You're running a business with it, of course. Be specific about which type of activities you're using it for, such as accounting, word processing, keeping a database of customer records, or storing digital photos of your products.

2. Identify the specific software applications you're using for each of those activities, such as QuickBooks, Microsoft Word, Microsoft Access, or Photoshop.

Each of these applications recommends system requirements, including available memory and processor speed.

3. Match and compare the requirements in Step 2 to the computer you're considering purchasing.

Look closely at not only the computer's processor but also the hardware and features that come with the computer, including these items:
Hard drive space
Operating system (Windows, Mac, Linux/Unix)
Memory capacity (RAM)
Networking card (preferably wireless-ready)
USB (2.0 or 3.0 compatibility)
Monitor (with the option for a flat screen)
Keyboard and mouse (wireless, to avoid clutter on your desktop)
External speakers
Installed software
4. Compare the support service and warranties.
Does the manufacturer or retailer offer customer support? Be sure to find out whether this service is included in the cost of your purchase, and whether it limits the amount of support you can receive before a fee kicks in. Find out exactly what is covered under the warranty and for how long. You might have to purchase an extended warranty to cover some computer parts. Keep in mind that some manufacturers require you to ship back your hardware versus sending a repairperson to your location. Before making a purchase, determine whether on-site support is important to you.
What about a Mac?
Computer users are always debating which personal computer is better for business owners: a PC or a Mac (Macintosh). The PC is usually associated with an operating system (OS) that runs Microsoft Windows; the Mac OS was created by Apple. For a long time, PCs seemed to be the preferred appliance for businesses, and Macs were favored by graphic artists. Today, either is acceptable for business use. With software compatibility for the Mac expanding, and Apple's explosive growth from the popularity of the iPhone and the iPad, business folks seem less reticent to use a Mac.

We don't want to get into a debate of which is better — that's for you to decide. But we do want to make you aware that you have options when purchasing a desktop computer.
About This Article
This article is from the book:
This article can be found in the category: