Etsy's raison d'être is to serve as a marketplace for artisans and other creative types. But Etsy also supports a vast and vibrant community of fascinating individuals.

To help you build your own place in this larger Etsy community and generally share the love, Etsy enables you to follow other Etsy members — say, family members on the site, friends who run their own Etsy shops, or other Etsy members you admire. When you follow someone, you can stay on top of that person's activity on Etsy — for example, if that person favorites an Etsy store or item or starts following someone else.
Following another Etsy member
Following someone on Etsy is a cinch. To do so, first make sure that you're signed in to your Etsy account. Then click the name of the person you want to follow in the Shop Owner section of her shop's main page to open her profile page. Finally, click the Follow button on the left side of the profile page, under the profile picture. When you follow someone, Etsy notifies that person via email.

Source: Etsy.com
Follow another Etsy member.
Viewing your Etsy "circle"
It's easy to survey your Etsy "circle" — that is, the members you're following as well as any who are following you. To see the members you're following, click the Following button in the Your Favorites/Items page. The Following page opens, displaying any Etsy members you've followed.

To stop following someone on Etsy, locate her entry in the Following page and click the Following button. The Following button turns into a Follow button, indicating that you are no longer following this person.

Interested in finding out who's following you? You're in luck. By default, Etsy notifies you via email any time someone follows you. (If you don't want to be notified, click the You drop-down menu that appears along the top of every Etsy Marketplace page, choose Account Settings, click the Emails tab, deselect the Someone Follows Me check box, and click the Save Settings button at the bottom of the page.)

You can also track who's following you by clicking the Followers tab in the page shown here. (You can access this tab directly by clicking the Followers button in the Your Favorites page.)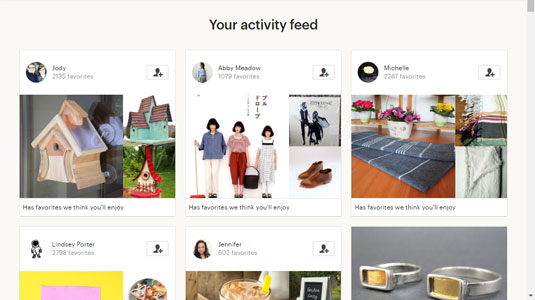 Source: Etsy.com
View your activity feed.
If you go the secret-admirer route with your Favorites (as we describe earlier in this chapter), anyone who follows you won't be able to see items and shops you've favorited. Otherwise, this info is visible for all to see.
Checking your activity feed
To keep abreast of goings-on among the people you follow on Etsy — for example, who in your circle has increased her own circle by following new members — you can check your activity feed. To view your activity feed, locate the From People You Follow section of Etsy's home page. Then click the See More Activity link. The Your Activity Feed page opens. Note that if the members you follow haven't been particularly active on the site, Etsy may supplement your feed by recommending other members to follow.
About This Article
This article is from the book:
This article can be found in the category: