Your package is ready. You've chosen your shipping provider. It's time to get this show on the road and choose your Etsy shipping options. The truth is, you choose these options long before you're ready to ship your package. In fact, you choose them when you first create the listing, in the Shipping section of the Add a New Listing page.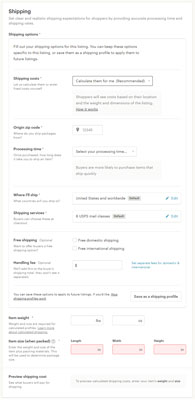 Source: Etsy.com

Setting shipping options.

First, however, you need to make one important decision: whether to use Etsy's Calculated Shipping feature to calculate shipping costs. (In case you forgot, we really like the Calculated Shipping feature and urge you to use it.) If so, follow these steps to get started.

You can use Calculated Shipping only if you plan to ship via USPS. If you want to use a different carrier, you'll have to handle all of this manually.

Note: The Shipping Costs drop-down list is set to Calculate Them for Me by default. Leave that setting as is to use Etsy's Calculated Shipping feature.
In the Origin Zip Code field, type your zip code (or, more specifically, the zip code from which packages from your shop will ship).
Open the Processing Time drop-down list and choose a processing time. Options range from one business day to six to eight weeks. You can also set a custom processing time or indicate that the processing time is unknown.
Specify where you'll ship to. The default setting is United States and Worldwide. To change this setting, click the Edit link. Then use the drop-down lists that appear to indicate which continents and countries you'll ship to.
Specify which shipping services you'll use. When you use Calculated Shipping, all six United States Postal Services shipping options (USPS Priority Mail, USPS Priority Mail Express, USPS First Class Package Services, USPS Priority Mail International, USPS Priority Mail Express International, and USPS First Class International Package Service) are selected by default. To change this setting, click the Edit link and deselect any options you don't want to offer. For even more choices, click the Advanced Shipping Services link to reveal USPS Media Mail and USPS Parcel Select Ground options.
Specify whether you offer free domestic or international shipping.
If you charge a handling fee, enter it in the Handling Fee section.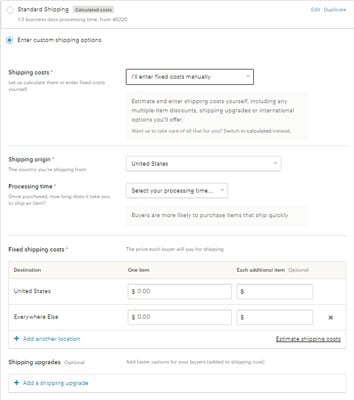 Source: Etsy.com
Manual shipping settings.
For help computing shipping costs, visit your carrier's website. Here are the URLs for a few popular carriers:
If you let Etsy calculate the shipping and you enter the weight and size info, you can preview how much it will cost to ship to buyers in various locations. This information appears at the bottom of the shipping section of the Add a New Listing page.
About This Article
This article is from the book:
This article can be found in the category: